by Linda Castillo
Every year I try to think about finding the perfect gift for my loved ones. My hubby always asks for hints and tips for what I want for Christmas. So here are my top 10 picks for Christmas gifts and stocking stuffers.  What's on your list?
1- I have been eyeing this watch FOREVER. I love the sleek bracelet design and the beautiful color face. And who wouldn't want to add a Gucci watch to their collection. A girl can dream, after all this is a wish list!
2- I love Coach purses and when I saw this grey patent number, it literally called out to me. It's a splurge purchase but if you give this to your girl, I am sure she will LOVE it!
3- The sonic cleansing system massages skin to loosen and remove dirt, oil and makeup from pores. I know that my skin needs some clarifying and revitalization especially with the cold and dry winter weather.
4- I love the feel of silk and satin against my skin. So I would love to get a set of this sweet pin stripe satin pajama set.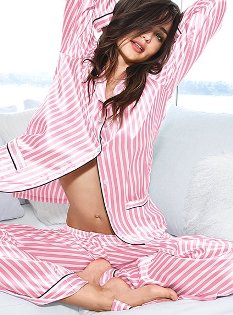 5- Another way to surprise your loved one is with a planned weekend getaway. Why not wrap up a bottle of wine and on the card write something to let your wife know that you are taking her away on a romantic wine tasting trip.
Stocking Stuffers Ideas:
6- I love the look of Betsey Johnson jewelry. Every piece is so playful and different. In the corporate world, I don't get to have a lot of fun with fashion so it is great when I can find an outrageous and fun piece of jewelry to bring some life to an otherwise dull outfit.
7- I am a huge fan of Bare Escentuals make up. I love the fact that the makeup is made with minerals and anti-aging benefits. I wanted to add to my list the limited-edition READY Eyeshadow. The shades are rich and intense working with both day and evening looks. The palette allows for a subtle day look or you can amp it up for the evening. And I love the fact that the gold case – – so chic!
8- I love the lights, glitter and decorations during Christmas time so of course I want to have a little bling. Perfect size for the stocking, I am loving the The Muppets OPI nail collection (and maybe even because I am a child of the 80s who loved The Muppets!). Have fun and layer the colors for a little change.

9- Sometimes after a long week I just want to watch a movie that is going to make me laugh until I pee in my pants. Bridesmaids movie is hilarious and one of those movies I can just watch over and over.

10- One of my girlfriends raved about Batch & Body Works Winter Candy Apple gel and lotion. She said that women and men were complimenting the fresh scent. Who doesn't want to smell yummy!
Note: Some of these products were provided by the respective companies for product review.
Linda Castillo is the Founder and Executive Editor of www.ModernLatina.com. She writes on topics that empower and inspire Latinas including art, motherhood, green living, culture, travel, and issues transforming the Latino community. Linda has earned a B.S. in Business and a M.S. in Mass Communications from San Jose State University.