Communities around the globe will come together to celebrate World Oceans Day with the inspiration to collaborate with one another to learn more about our ocean and take action to help conserve it on June 8th.
The ocean covers roughly 70 percent of Earth and it is our responsibility as inhabitants of this planet to understand and protect our natural resources.
The world's ocean provides us with food, generates oxygen, regulate our climate, and water to drink.
Currently, the ocean is suffering from our mistakes including overfishing, dying coral reefs, increase in ocean dead zones, mercury pollution, and unnecessary dumping of waste.
Make a Difference on June 8th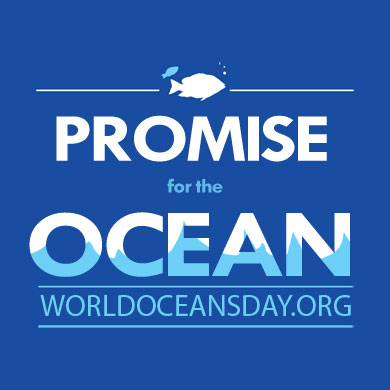 This year's World Oceans Day theme is, " Together we have the power to protect the ocean!" in hopes that everyone can join their efforts to make a difference in conserving our ocean. People everywhere can make a difference by doing at least ONE simple promise that can go a long way in keeping a healthier ocean.
To join the growing movement of people taking action for the ocean, visit http://worldoceansday.org/promise .Not sure what simple promise you can make, here are a few ideas to get you started.
I promise to not eat meat on Mondays
I promise to bring reusable bags to the grocery store
I promise to get a reusable water bottle
I promise to shop a thrift store first instead of buying new
I promise to take shorter showers.
I promise to take public transportation to school/work once a week.
I promise to only eat sustainably harvested seafood.
I promise to unplug my chargers when I'm not using them.
I promise to shut off all the lights and the heat or A/C when I leave my house.
I promise to participate in a litter clean-up.
I promise to not use toxic pesticides on my lawn.
World Oceans Day is an international observance that's recognized by the United Nations and commemorated at aquariums, zoos, schools, and conservation organizations around the world in hopes to inform and motivate change to protect the beautiful blue ocean. Locally you can attend the Monterey Bay Aquarium's World Ocean Event on June 7 and 8 featuring an entire weekend with live musical performances, crafts, sustainable seafood samplings, special bilingual programming and more!
World Oceans Day: Keep It Blue Giveaway
In honor of World Oceans Day, Modern Latina has teamed up with Monterey Bay Aquarium to host the Keep It Blue Giveaway where you can have a chance to win an eco-friendly bag and reusable water bottle from Monterey Bay Aquarium, along with 2 adult general admission tickets. There are four prizes available for this giveaway. The giveaway begins June 5, 2014 through June 30, 2014 12:00 AM PST.
How To Enter:
Subscribe to the Modern Latina eNewsletter
Follow Modern Latina on Twitter
Retweet the Keep It Blue tweet
Like Modern Latina on Facebook
Share the Modern Latina Keep It Blue Facebook post
Follow Facebook.com/TuMontereyBayAquarium
Share your World Oceans Day promise on the Modern Latina Keep It Blue Facebook post
You can enter up to seven times per person via different entry methods mentioned above. This giveaway will end June 30, 2014 at 12:00 am PST. The approximate retail value of the prize is $89.00. The winner will be drawn using random.org. Once winner has confirmed prize, the winner will be announced on Facebook. All entrants must be at least 18 years old and a US resident. Prize fulfillment will take 6-8 weeks.