Tell us about the Rise and Shine app?
#RiseANDShine was created to inspire and encourage women to live their best life. There are too many women just getting through the day…just getting by and have buried their dreams deep below life's responsibilities, work, family, you name it. We all need that someone or something to keep us going and that's the purpose of #RiseANDShine.  Daily messages include affirmations, words of wisdom, personalized quotes (based on category selection) and straight talk to help women push through their everyday obstacles.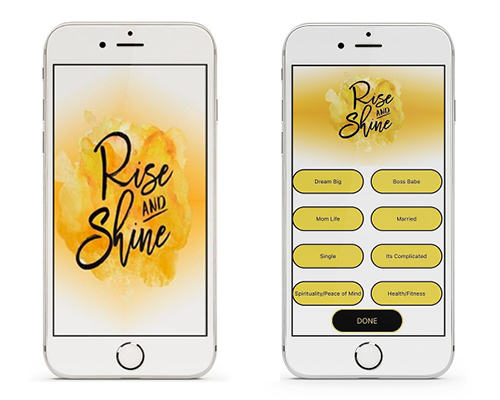 How did you start the process to develop the app?
Once I had the idea I reached out to a few close, fierce lady friends and shared the idea with them. They all encouraged me to pursue it and we shared in a brief moment of joy. I say brief because I realized that I've never developed an app…I didn't know anyone who had created an app and I certainly could not code. I began researching the development steps.  I was overwhelmed by the amount of information online but I figured hey, this is Silicon Valley, someone knows something about building apps and I do work for a tech company, this should be easy. It wasn't. Every lead turned into a dead end or I faced Silicon Valley prices. The first person I hired was a UI/UX designer, a young woman out of Venice Beach. This is someone to help take the vision in your head and actually lay it out on paper for you. I sat on those plans another 2 months. Meanwhile, I was finishing a corporate project and moving on to a new team and my colleague began to ask me about my future plans. I reluctantly shared my project idea with him and he said oh, I have an offshore team you should meet and I said ok, sure…sort of brushed him off a bit, but he insisted I meet them. He personally emailed the CEO, as they had just completed a project for him and well I met with the team and they were simply amazing and well within my budget. The work load and trying to navigate the app process was overwhelming. I was feeling a bit under the weather and the Project Manager I was consulting with was wrapping up our 10:00pm call and said "I'll be praying for you". I knew right then that this was the team for me to work with.
Any specific challenges creating the app? And how did you overcome the challenges?
The biggest challenge I faced in being a solo-preneur is having to do everything myself. Unless you can afford to hire talent…you are the CEO, CFO, CMO, COO and you are also the worker bee doing the everyday tasks. I was limited to my own knowledge, so that means I needed to continually learn by watching webinars, connecting with online tech groups, and reading anything I could related to app development and marketing. Another challenge I faced was balancing my time and energy between my family, my full-time job and working on the app in my spare time. Being a wife and mom always comes first, the family's needs don't go away because mom has a project. Testing, curating and creating content all took place after hours and still does. Taking care of yourself and staying focused on why you are doing it will help in the long run.