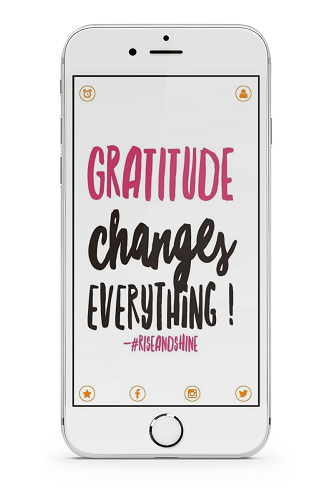 Any advice you would like to share for those interested in creating an app?  
Surround yourself with people who will support you and cheer you on along the way. Project obstacles and development challenges can set you back mentally and it's important to have someone there to hold you accountable. Everyone's journey will be different, but a few things I wish had were someone to bounce ideas off of. I am grateful for my supportive husband who gives me the space to pursue my passions, to my small tribe of incredible women, my sisters, my besties, my prayer warriors and early supports to answer my random questions at all hours of the night and to talk me off the ledge when I felt I was losing my mind. Have a clear vision of what you want to accomplish, but be flexible and open to feedback from your support team. Do lots of research and see if there is really a need for your idea. Know who your competitors are and what sets you apart from them. The app market is a crowded space…know your Why!
What is next for Rise and Shine app?
This year I plan on focusing on creating more content and building an online community for women to share knowledge, experiences and inspiration about life we've all learned along the way. I am on the planning committee for a 2018 Bay Area Latina Empowerment conference as well as a young woman's conference this summer. This year I'll be collaborating with another women's empowerment group to create something specifically for Latina women.
Anything else you would like to share with the Modern Latina readers?
I would like to tell Modern Latina readers to go for it! Whatever "it" is, whatever dream they have in their heart pursue it. It's not going to go away, you're not going to forget about it so gather your confidence and courage and take the first step. It will not be easy, but it is possible. It's all possible! You don't need to know the whole plan, I know I didn't, but I knew I could take one step. And if you can take the first step you can take a second step and then you keep going. #RiseANDShine ♦
Start your day on a positive note and visit http://riseandshineapp.co/ to download the #RiseANDShine app. You can also follow the #RiseANDShine's social media feeds:
Linda Castillo is the Founder and Executive Editor of www.ModernLatina.com. She writes on topics that empower and inspire Latinas including art, motherhood, green living, culture, travel, and issues transforming the Latino community. Linda has earned a B.S. in Business and a M.S. in Mass Communications from San Jose State University.