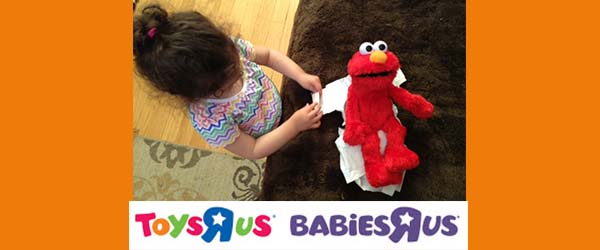 This is part of a sponsored campaign with Latina Bloggers Connect and Huggies®. Babies R' Us has provided me with a $50 gift card to supply to one reader for a giveaway. I have been financially compensated to provide my opinion and review of the products. Even though I received compensation for this post, I always give my honest opinions, findings, beliefs, or experiences on the products. The views and opinions expressed on this blog are purely my own. Any product claim, statistic, quote or other representation about a product or service should be verified with the manufacturer, provider or party in question.  I am disclosing this in accordance with the Federal Trade Commission Guidelines, 16 C.F.R Part 255.
by Linda Castillo
My daughter always likes to help me with house chores and often times I will catch her mimicking things that I do. I always try to involve her in things that I am doing around the house such as cleaning the glass doors, helping me put sprinkles on cupcakes, and putting food in the dog bowls.
Lately, my little one has been into playing dolls. We will play together and I will show her how to wrap the baby doll in a blanket, feed the baby or walk the baby in her stroller. I even showed her how to cradle and "shhhhh" her baby doll to sleep.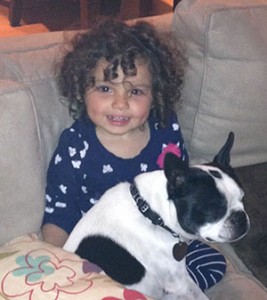 One evening I was preparing dinner while my daughter contently played with her doll. I continued to make dinner and when I went back to check on her for the second time I came across the funniest scene. My little one had managed to put Huggies® Snug & Dry diapers on not just her baby doll but her entire stuffed animal collection including Cookie Monster, Elmo, Dora, and more. She had run out of dolls and stuffed animals so when I walked in she was attempting to put a diaper on our dog Roxy. Roxy was sitting their completely clueless. It was a site to see and had me laughing the rest of the night.
So not only are Huggies® Snug & Dry great for offering long-lasting protection by keeping my daughter dry during her playtime, they ended up being a part of my daughter's playtime in this instance.
With Huggies® Snug & Dry Diapers with SureFit your little one will have more time playing and less time deal with leaky diapers. The new SureFit* Design means, up to 12 hours of added leakage protection. New softer outer cover means your babies delicate skin won't chafe or rash and the SnugFit* Waistband, ensures  All-Around Fit for more comfort and control, even when he is moving every-which-way.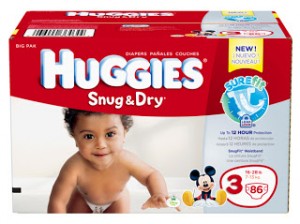 You can purchase Huggies® Snug & Dry Diapers with SureFit Design at the nearest Babies R Us store near you. And now you have a chance to a $50 gift card to go shopping at Babies R Us that you can put that towards buying diapers, cute outfits, toys or any of the many items that Babies R Us offers.
The giveaway begins June 5, 2013 through June 23, 2013 at 12:00 AM PST. How To Enter:
You can enter up to six times per person via different entry methods mentioned above. This giveaway will end June 23, 2013 at 12:00 am PST. The approximate retail value of the prize is $50. The winner will be drawn using random.org. Once winner has confirmed prize, the winner will be announced on Facebook. All entrants must be at least 18 years old and a US resident. Prize fulfillment will take 4-6 weeks.
Note: This is part of a sponsored campaign with Latina Bloggers Connect and Huggies®. Babies R' Us has provided me with a $50 gift card to supply to one reader for a giveaway.
Linda Castillo is the Founder and Executive Editor of http://www.modernlatina.com/. She writes on topics that empower and inspire Latinas including art, motherhood, green living, culture, travel, and issues transforming the Latino community. Linda has earned a B.S. in Business and a M.S. in Mass Communications from San Jose State University.