by Linda Castillo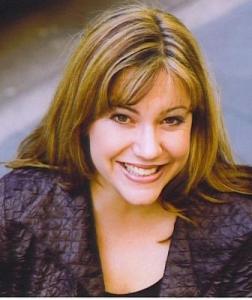 It's not everyday that you get to ask questions to a NY Times and USA Today bestselling author! So we were excited to end the year featuring an interview with Alisa Valdes-Rodriguez. Alisa talks about the release of her latest book Lauren's Saints of Dirty Faith: A Dirty Girls Social Club Novel, shares advice for aspiring writers and what she is working on next.
Can you describe the premise of your latest novel, Lauren's Saints of
Dirty Faith?
Sure. It's the third installment of the Dirty Girls Social Club series, and a romantic suspense thriller. One of the "sucias," Lauren Fernandez, is on the run after her boyfriend turns out to be not just a bad cop, but a serial killer.
Will there be another book in the Dirty Girls Social Club Novel series?
 To quote the illustrious Justin Beiber, never say never.
I read that that at Berklee College of Music in Boston you majored in jazz performance on the tenor saxophone. What happened to shift your focus from music to become a writer?
I always loved both writing and music. I started writing music reviews for the Boston Globe during my senior year of Berklee, and loved it. I decided I loved writing for a living more than I loved playing sax for a living. That's about it.
Do you have any words of advice for our readers who are interested in becoming a published writer?
Don't give up. There is a lot of rejection in this business. At every step of the way. You have to be tough. You have to believe in yourself and your voice. And, of course, you have to write well. So read. A lot.
Since The Dirty Girls Social Club in 2003, you have been dubbed the establisher of "chica lit", how do you think this genre has changed since then?  Do you think that the recognition of the "chica lit" genre has paved the way for future Latina writers?
I honestly don't pay any attention to labels I'm dubbed with. That's the domain of people who write about me. I don't write "chica lit". I write books. Other people put labels on them. I also make it a policy to read writers because they are good, not because they belong to any particular group. I'm a big proponent of universal humanity, and am saddened by the odd need inAmericato put writers into ethnic, racial, or gender boxes.
How would you describe the progression of your writing style over the years?
I've gotten better with pacing, plot and form. That's the main difference. I also think that as I grow older I become less angry as a person, and it shows in my writing. My early writings are sarcastic and cynical. I don't feel the need to go there as much any more. I'm happier now, in a better place. That shows.
Does your writing reflect the changes that you are going through at any point in your life?
 Always. Writing isn't what I do, it's who I am.
Where do you find inspiration for your stories?
Everywhere. Truly. Non-writers look at the world and see the world. Writers look at the world and see stories.
The Dirty Girls Social Club TV show never ended up going into development. Do you have any plans to see any of your novels make it to the big screen or a television series?
Yes. I have the rights back and am in talks to make it both a feature film and a TV series.
You published your recent book. Tell me about your choice to self-publish and how is that going?
It was an experiment. I had fun with it. The book is selling as well as my last book with a major publishing house, so I can't complain.
Now that you have publishing experience under your belt, do you have any plans of starting your own publishing company?
I once thought that would be fun, but I have a lot going on right now. My time is scarce. Think I'll stick to writing for a while and see how that goes.
Are there any current projects you are working on that we will see soon?
Yes! I have a young adult supernatural romance trilogy launching from HarperCollins in April 2012. Here's a link: http://kindredseries.wordpress.com/ I've also just sold a memoir to Gotham Books. Here's a link to the blog preparing for that: www.learningtosubmit.com
Linda Castillo is the Founder and Executive Editor of www.ModernLatina.com. She writes on topics that empower and inspire Latinas including art, motherhood, green living, culture, travel, and issues transforming the Latino community. Linda has earned a B.S. in Business and a M.S. in Mass Communications from San Jose State University.