by Vanessa Garcia
Ok, we've all heard of the sexy Latina stereotype, but a funny sexy Latina? Unheard of! At least not until Anjelah Johnson stepped on the stand up circuit. You might know her better as Bon Qui Qui from Mad TV, the cashier behind the fast food counter or the clip called "The Nail Salon" which has had over 23 million views on YouTube.
Johnson, a native of San Jose, CA, started out unlike most stand up comedians, as a Raiderette, hyping up the fans and supporting the team. Johnson decided she wanted to take her talent to the next level – acting, and packed up and moved to L.A., as most aspiring actresses do. Hoping for a serious dramatic role in a TV series, Johnson gave stand up a go in the meantime. Little did she know she would be embarking on a journey that would take her to a much funnier place than drama.
Johnson is best known for her outrageous impersonations of other women of color. Because let face it, making fun of each others races is funny, laugh out loud, ROLMF kind of funny because we know it's all true and everyone's always trying to be polite or politically correct about things like that. Comedians are the ones who say the things that everyone's thinking, but are just too polite to say it.
Johnson's stand up routines became an internet sensation with her characters from the nail salon, impersonating her experiences with Vietnamese women and the customer/ salon technician language barriers. Her Vietnamese accents are so dead on you would swear she was Asian. Bon Qui Qui is based on a young women she met in a fast food drive through window.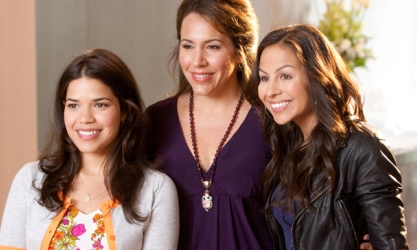 You may also have seen Anjelah on the big screen starring next to America Ferrera in the movie "Our Family Wedding" now available on DVD. Anjelah plays America's younger sister Izzy in this comedy about a twist on traditional Latin wedding.
If you want to check out Anjelah's game up on stage, check her out from June 23rd to the 26th performing in San Francisco at Cobba Comedy Club!
Vanessa Garcia has written for Modern Latina since 2008, in addition to Live en Vivo, and 831 Magazine. Many of her articles reflect her interests in art, music, culture, travel, and the environment. Vanessa received her Bachelor's degree from UCLA in Anthropology, and is currently finishing her Master's as San Jose State University in Mass Communications.