by Linda Castillo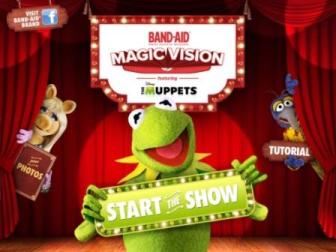 Scrapes and cuts come with the territory once you have a toddler. When my little one is crying from a boo-boo I do whatever I can to calm her down and ease her pain. I have always used BAND-AID® Brand Adhesive Bandages because they are the only bandages that I have tried that actually stay in place even when wet. Plus, I also love all the cute cartoon bandages that put a smile on my daughter's face even after a bad boo-boo.
You can pick your favorite cartoon character from BAND-AID® Brand Adhesive Bandages variety of cartoon labeled products to help your child forget about their boo-boo. The children's line includes Transformers Animated™, Littlest PetShop™, Dora the Explorer™,SpongeBob SquarePants™, Barbie™, Scooby-Doo™, Hello Kitty®, Spider-Man®, and Go Diego Go!™ to name a few. Kids and even adults love to sport a cute bandage while their boo-boo is healing.
Now BAND-AID® has teamed up with Disney to create Brand Magic Vision App featuring Disney's The Muppets. Once the application is downloaded (available in the Apple App Store), parents and kids alike can scan any of the BAND-AID® Brand Adhesive Bandages strips and boxes featuring Disney's The Muppets to see one of three unique adventures and performances from the Muppets.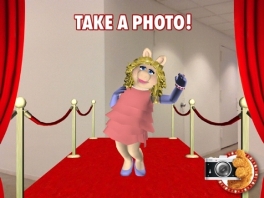 I loved the Muppets when I was a child and it is great to see my daughter enjoy them as much as I do. With this application my little one can sing along with Kermit the Frog, strike a pose with Miss Piggy or help The Great Gonzo to help her forget about her boo-boos.
BAND-AID® isAmerica's #1 bandage brand covering all your boo-boo needs. Now you have a chance to win a box Johnson & Johnson gift basket valued over $70 with the BAND-AID® Boo-Boo Giveaway. The giveaway begins October 28 through November 11, 2012 at 12:01 AM PST. The prize package includes the following Johnson & Johnson products:
Lubriderm Daily Moisture Lotion
Listerine Antiseptic
Band-Aid Box
Aveeno Positively Radiant Moisturizer
Aveeno Baby Daily Moisture Lotion
Aveeno Baby Wash
Aveeno Daily Moisturizer
Aveeno Nourish + Conditioner
Aveeno Nourish + Shampoo
How To Enter:
a Rafflecopter giveaway
You can enter up to five times per person via different entry methods above. This giveaway will end November 11, 2012 at 12:01 am PM EST. The value of this giveaway is $70.71. The winner will be drawn using random.org. Once winner has confirmed prize, the winner will be announced on Facebook. All entrants must be at least 18 years old and a US resident. Prize fulfillment will take 4-6 weeks.
Disclaimer: In compliance with FTC guidelines, please be aware that my review and giveaway of/about BAND-AID® Brand Adhesive Bandages, was made possible by the Latina & Latino Lifestyle Bloggers Collective , and sponsored by Johnson & Johnson.
Linda Castillo is the Founder and Executive Editor of http://www.modernlatina.com/. She writes on topics that empower and inspire Latinas including art, motherhood, green living, culture, travel, and issues transforming the Latino community. Linda has earned a B.S. in Business and a M.S. in Mass Communications fromSan Jose State University.