by Vanessa Garcia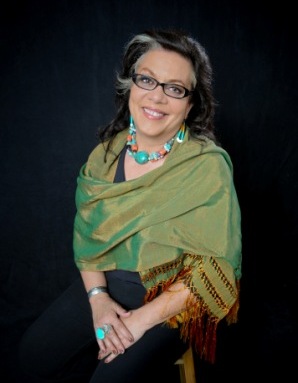 Elisa Marina Alvarado is one of the leading women in Chicano theater today.  As artistic director, and founding member, of Teatro Visión, Alvarado has brought to life numerous plays portraying Chicano life and history.  Alvarado has been involved in community organizing and Chicano theater for over thirty years.  She helped establish Teatro Visión with a group of women teatristas, originally named Teatro Huipil, for its representations of a community through its various colors and weaves.  Growing up, Elisa was exposed to a world of imagination and creativity from her parents, who showered her with books, and fed her creativity with the arts.  They also instilled values of social justice into her at a very young age. 
Her passion for the arts, combined with the love of her culture, and dedication to social change gave her the drive and ambition to continue creating theater for social justice, and produce a platform where Chicano and Latino artists can challenge themselves artistically.  In high school she supported the farmworker's strike during the 1970's and took a strong stance against the Vietnam war. Once she saw El Teatro Campesino perform, her passion for the arts and social justice ignited her fire for teatro. 
During the 1970's Alvarado joined Teatro de la Gente in San Jose, and toured in Mexico San Jose, and the Southwest.  As years went by, teatro members came and went but she continued with her work in teatro and continues to engage the community.   Teatro Visión has conducted an education training theater program with Somos Mayfair, a San Jose non-profit dedicated to cultural activism, social service, and community organizing.  There, Teatro Visón has trained their staff in theater of the oppressed, giving voices to immigrant woman's stories, and other tales of the community.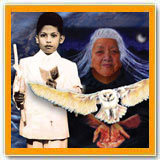 Recently, Teatro Visión has been gearing up for Bless Me Ultima, The Play, which has been six years in the making.  Originally a novel, Rudolpho Anaya has adapted it for the stage.  Elisa was fortunate enough to spend some time with the author to collaborate on the modifications for the play.  Bless Me, Ultima is one of the most beloved books in Chicano literature.  Alvarado said she wanted to introduce this story to the next generation of Latinos in the Bay Area in hopes of encouraging them to read the book, and become familiar with other Chicanos living in another time and place, such as rural New Mexico, and connect with the land.  Bless Me, Ultima also resonated with Alvarado because she is part Purépecha Indian.  Her Godmother and great grandmother are yerberas, including herself.  And felt a strong connection with the novel and its character Ultima, the curandera because of her work as a yerbera.
In a world sometimes dominated by men, especially in the arts, it's wonderful to have a female role model that other young woman can look up to, and know that they can also rise to the heights of their dreams.  Elisa Marina Alvarado continues to inspire, not only Latinas, but all woman who want to spark social change in the community, and artistically engage and challenge the theater, not only with the female perspective, but with a human perspective as well.
Also, stay tuned LOL! Latina on the Loose.  An award winning one woman show, portraying the trials and tribulations of love, and her adventures in globe trotting.  Comming this spring!
Bless Me Ultima, March 17 – April 3, 2011, Performed in English with Spanish subtitles.  Location: Mexican Heritage Plaza Theatre, San Jose, CA.
Vanessa Garcia has written for Modern Latina since 2008, in addition to Live en Vivo, and 831 Magazine.  Many of her articles reflect her interests in art, music, culture, travel, and the environment.  Vanessa received her Bachelor's degree from UCLA in Anthropology, and is currently finishing her Master's as San Jose State University in Mass Communications.
Photo Credit: Ariana Perez