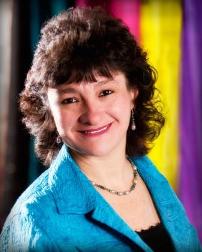 1. What inspired you to write Latinnovating: Green American Jobs and the Latinos Creating Them?
I have published non-fiction articles in trade magazines, and children's magazines, for years as a freelance writer. I have a natural curiosity about people, their stories and a desire to create content that teaches life lessons to others. Plus, my own life as a military aviator has provided a lifetime supply of stories, leadership lessons and adventure that I am currently documenting in my military memoirs. Writing non-fiction content to me has always been more intellectually stimulating than anything else.
A second reason I chose this content path: for a long time, I have been bothered by negative media images of Latinos. I find it sad that mainstream American media does not regularly seek and feature successful Latinos like those in my book; I sense a difference in agendas, perhaps a desire to reinforce stereotypes? Instead, I want positive images of Latinos to become part of our collective consciousness as a nation. I'm determined to bring these stories into the light and into the mainstream, to change the conversation about Latinos inAmerica. Mainstream producers and editors will not come looking for these stories. Therefore, I will write them and present them intentionally. Our entrepreneurial spirit will finally be seen and appreciated by the masses. We must engage in a consistent effort to show the opposite of the status quo to begin to change minds about the images that the words "Latino" and "Hispanic" represent. It's what I learned to do as a marketer –if you want to change minds, you must show the success stories.
I share the culture of the Latino innovators of whom I write. I, like them, have always known not to waste, to always creatively reuse and to always conserve. While Americans generally talk about "going green," and all the lifestyle changes that represents, we Latinos have already been living this way. It's who we are. It's only natural to find Latinos innovating and in positions of leadership in our new green economy. I'm privileged to have been entrusted to tell their stories.
I also have a key message for teachers: I tell educators to stop looking at their Latino students only in socio-economic terms (a.k.a. "disadvantaged") and instead look at them through a different prism, to see that they're  actually "creatively advantaged" then figure out how to harness that gift. Outcomes typically follow expectations.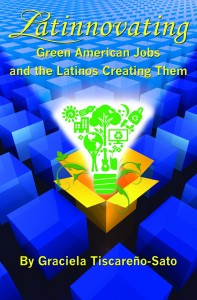 2. How did your upbringing and career provide a foundation to create this book?
I am the daughter of Mexican immigrants in the 1960s, two highly intelligent, loving parents who did not have the opportunity to pursue much education inMexico. I am the oldest of five children and still the only one of the five children to graduate from college.
Growing up in a meat-packing town in northernColorado, I practiced the creative reuse of household objects, a common practice even in today's Latino families. We recycled many goods, shopped at thrift stores, made new accessories out of outgrown clothes, handed down our clothes to our cousins, grew a garden, etc. We did all those things that today are considered part of the green lifestyle, but that we know of as cultural and familial traditions.
But early in life, I went against the cultural expectations, against the grain in every way. I was academically inclined in math, science and writing; I was a three-sport athlete, the only female trombone player and so on. I had no desire to learn to cook and when my mother said I needed to cook to get a husband, I told her I would marry a man that could cook (and I did!). I published my first article and earned my first byline in my hometown paper when I was 15 years old and did other unusual things like that. They called me rebelde. So I decided to live up to the name.
I won a scholarship from the U.S. Air Force ROTC program, and was admitted to my first choice university:UniversityofCaliforniaat Berkeley (a.k.a.Cal.) After months of hearing "deveras vas a dejar a tu mama?" from the community, my family drove me to Berkeley and dropped me off at the dorms to begin my life as a scholar.
During my military aviation career, I had the unique privilege of appreciating the vast majority of our Earth from the 33,000- foot level. I have tremendous and deep appreciation for our planet because I understand the smallness of it. I get the big picture. That's a core value. I tell live audiences that it's only 16 hours toSaudi Arabia– it's a very small rock we share.
Lastly, I have worked in a global corporate sustainability role, in an industry creating software-based technologies designed to enable brains to collaborate from wherever they may be, without commuting and polluting. The technologies we developed were also about significant energy reductions for large global corporations – reducing corporate footprints in multiple ways: less energy to operate, less cars on the road and less planes in the air. That experience led me to wonder what, if anything, Latinos were contributing to the American green economy. An article I was commissioned to write for Hispanic MBA magazine gave me the opportunity to explore the curiosity and led me to the people featured in Latinnovating and to many others that will make up future volumes.
I launched this book atCal's rival, Stanford University, to showcase Latino leadership stories from the green economy. I am living proof of the value of higher education in changing the trajectory of a young life. I credit my parents for talking about pursuing education (even though they wished I would do it while living at home) and my high school counselor for introducing me to her Air Force officer husband who informed me of the AFROTC scholarship and program. This made it possible for me to sever the ties to home and really focus on developing my mind, away from the domestic responsibilities put on young Latinas with four younger siblings.
All of those experiences during childhood and adulthood combined to strengthen my ability to envision and execute on this multi-year project.
3. In your research for the book, did you find that there is a cultural aspect aligning Latinos with conservation and preservation of natural resources?
There is indeed a cultural aspect to these stories. One example is this: regardless of which Latino American nation their families came from, they practiced creative reuse in the home: reuse of food, of clothing, of found objects, of packaging, of lumber. They shared dichos with me passed down from their grandparents and parents, dichos about protecting the land and reusing everything. This discovery was quite astounding for me. It made me understand my own mother better. These conversations about lessons learned at home helped me to understand why I can't throw away slightly stained children's clothing –it's been ingrained into my mind that even these things can be reused by someone somewhere. Like others in the book, I make the effort to pass them along and keep them out of the landfill, to give objects a second life as often as possible.
Even now as successful professionals and entrepreneurs, those who can afford to have four vehicles have chosen to have one and walk a lot. One of the engineers prides himself on growing his own organic vegetables in his Silicon Valley piece of land while also recycling all his lumber.
The important connection we must make is that these lessons give Latino children a creative advantage, an innovation advantage. When you grow up surrounded by examples of thinking about how to make something from something else, you're practicing not only good zero-to-landfill resource management, but also critical thinking skills that my interviewees have cited as contributing factors to pursuing entrepreneurship. It makes sense; a child that grows up constantly creating pom-poms out of plastic bags, shiny aluminum flowers out of soda cans, cars out of bottle caps and juice boxes is much closer to pursuing a creative career or an engineering career than a child who gets new toys handed to him all the time. Think about it.
4. Was there a common thread among all of the business owners highlighted in the book?
Absolutely! I call it the entrepreneurial spark. In addition to the cultural foundations detailed above, the business owners each experienced a pivotal moment, something specific they recalled as catalyst, when they decided it was time to start that business. For Carmen, it was getting jerked around by a boss who didn't want to pay her commission after she landed a big deal with a client. When her unethical boss couldn't deliver on the order in time, she approached the client and said, "If you give me a cashier's check for $285,000 I can solve that problem for you." When he did, she started her business that same day and fixed the problem. Her commission from her initiative was ten times what her commission would have been working for the other guy. That's the day she decided she would never work for anyone else. For Luis it was realizing that giving homeowners government incentives to adopt solar energy made far less sense than making it possible to get entire schools and school districts off the electrical grid. His construction management company serving public schools added solar development services and his business really took off from there.
Reading about those moments, those events, and how they had to courage to act upon those moments, that is a key reason, a real value to reading these childhood-to-innovation stories. There are many "wannabes" in the world that "wanna be an entrepreneur," but far fewer actually act and execute. The leaders I write about have done it.
5. What would your advice be to somebody who is interested in pursuing a Green Job?
I wrote an article for the Huffington Post titled "A Teaching Moment About the Green Economy." In it, there's a link to a great chart that shows many industries and sub-industries that make up most of the green economy. It's helpful to understand big picture first, so you can think about what interests you the most.
Then understand something very important: to get hired by an energy storage solutions company (for example), you don't need specific industry experience. The field is simply too new. Hiring managers don't want to limit their searches to those very few who have worked in a nascent industry. What matters most is your functional role and experience, wherever you earned it AND your ability to sell it. Can you communicate the value you would immediately bring into the new organization?  Can you help the hiring manager quickly connect the dots between what you've done already and what they need to happen when they hire this new person? She who does that best wins.
Read the stories in this book about where industry transformation is taking place, creating growth, new small businesses, and job creation. Understand these opportunities are global in nature and don't limit your search to only theUSA! To connect with specify industries, Latinnovating provides specific industry networking groups, blogs, associations at the end of each chapter, ten in all.
In one chapter, you'll learn about the key role venture capitalists like Rodrigo Prudencio are having in funding innovation in the green economy. You'll understand why it's a good idea to monitor the venture capital flows and growth numbers for different industry sectors by reading specific reports recommended by Rodrigo.
Then, sign up for StartUp Hire alerts –this is where many newly-funded companies post the new jobs they have created. Then apply! On LinkedIn there are several groups that regularly post jobs in green industries. One of the most active is simply called Green. Type "clean tech" in the LinkedIn Groups search field and you can find job boards from China to Barcelona.
There are no shortage of networking events for professionals and students interested in working in the emerging green economy.
A fun way to get introduced to the green professionals in your own community is to connect with your local Green Drinks group. It's a free, casual, monthly event where you can make green connections and it's active in nearly 800 cities worldwide!
Look for groups like those we have inSan Francisco. Here are a few whose events I have attended. Solar Marketing Group, Women's Environmental Network (WEN) and the San Francisco Bay Area Chapter of Women of Wind Energy (WoWE).
Green Jobs Network has a great list of resources for those wanting to learn and transition. http://www.greenjobs.net/green-career-books/
6. Do you have any advice for business owners who are interested in making their company green and sustainable?
The most important thing to realize is this: "Consumers Don't Trust Green Product Claims," as quantified in this Cone Communications survey.
In this Huffington Post piece, titled "Skepticism of Green Marketing — Big Trouble When Addressing Latinos," I delve into this research, happy to hear that skepticism is alive and well, and suggesting what business owners and marketers must do to market their company and products authentically.
Start by asking "where does the stuff I use to make my stuff come from? Am I sourcing materials that are made of other recycled materials or consuming all new materials? What will happen to the product once customer buys it? How will he/she dispose of it? Can it be turned into something else? Why not make that idea part of your packaging and marketing too? Am I making choices only on what the cheapest thing is or am I considering environmental impact? Then choose one area to change, just one, to participate in a closed manufacturing loop as much as possible. Don't cheat, don't take shortcuts. If you do,  you'll get caught by those skeptical consumers!
When you want to formalize your improvements, look into third-party certifications like those provided by Green Business Bureau and Green Irene. This way, an external party verifies your solid, sustainable business practices and you can market your business confidently and successfully. The key, is to be authentic every step of the way and only make those changes you can live with for the long term.
Last thoughts: The childhood-to-innovation stories in Latinnovating have a profound affect on audiences when I speak. Everywhere I present, I'm asked "when can I get this book in Spanish?" I've had people say, "I want my tia or mami to read it to support my idea to go to college." So as I begin the interviews for the second volume in the Latinnovating series, and get ready to publish my first children's book, I'm also actively seeking a sponsor to help bring the Spanish translation of this book to fruition. I have a vision that in 50 years we will look back to this period in our nation's history. We'll see the Latinnovating series standing alone, documenting the environmental and economic contributions the Latino community made at the beginning of the green economy.