Many of you may be familiar with Ysabel Duron because you have seen her as the co-anchor KRON 4 Weekend Morning News in San Francisco, CA since 1991.  But what you may not be aware of is that in addition to her over forty years of television journalism experience, Ysabel is an advocate for Latinas with breast cancer and the founder of Latinas Contra Cancer.  As a cancer survivor herself, Ysabel recognized the void in culturally and linguistically sensitive programs to meet the health care needs of Latinos around the issues of cancer.  Consequently, in 2003 she founded Latinas Contra Cancer dedicated to increasing cancer awareness and access to high-quality care for Latinos nationwide.
The latest statistics show that 10% of the US population is of Latino descent and according to the American Cancer Society, cancer is the second leading cause of death among Hispanics.  And while the Hispanics have lower incidents and death rates than non-Hispanic whites for the most common cancers, they are more likely to be diagnosed in a more advanced stage of the disease.  The fact that 1/3 of the Latino population is uninsured and nearly 3 times less likely to have a consistent source of medical care can account for the later diagnosis and treatment resulting in poorer health outcomes.
Since the organization's inception, Ysabel and the work of Latinas Contra Cancer have made several strides to raise awareness of cancer by providing education, support groups, patient navigation providing expert guidance through the complex treatment process, bi-lingual website resource and information, Annual Walk Against Cancer, and Breast Health Bingo/Signature Education Program.  An important component of Latinas Contra Cancer's programs includes understanding and dispelling the misconceptions about cancer with the Latino communities.  According to Duron, the approach that Latinas Contra Cancer has been so successful that that many other organizations want emulate the program.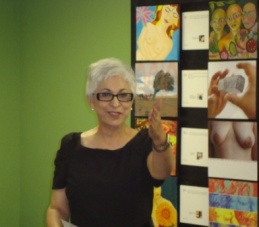 In addition to the dedicated staff and leadership of Ysabel, volunteers also contribute to their time to achieve Latinas Contra Cancer mission.  After Victoria Miranda's diagnosis with breast cancer in 2007, she wanted to get more involved with the community.  Her volunteer work with Latinas Contra Cancer has allowed her to share her story with others who are going through similar situations.
"Ysabel's vision is what drives the organization and it is her immense drive that keeps it going," says Victoria.
Recently, Latinas Contra Cancer held an open house at their new location in Downtown San Jose.  The open house featured an International Art Exhibition entitled Latina(o) Artists United Against Breast Cancer, Reflections on Canvas.  Marilyn Sampera Rosada, was the Special Curator of this exhibit, which featured 26 artists from Latin America, Cuba, the Dominican Republic, France, Germany, California and Texas.  The artists' work embraced the fight against breast cancer and the artwork was based on the interpretation of the health bingo education program.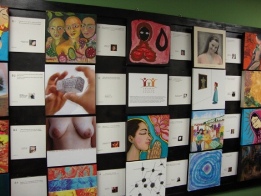 Cancer survivor, Alejandra Palos from San Francisco, California was one of the contributing artists for the exhibit.  She created a limestone sculpture piece portraying an angel's wings and chest. Alejandra explained that art was very therapeutic for her saying that "art has its own voice."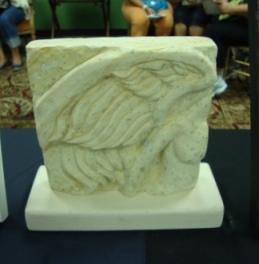 The pieces from the exhibit were a part of a silent auction with proceeds benefiting Latina Contra Cancer.  An online mosaic of the exhibition artwork will be created and available online.
This event marked another accomplishment and provided an opportunity for Ysabel to highlight some of the upcoming projects of Latinas Contra Cancer including the 2011 Healthy Eating, Healthy Living, Healthy Environment Campaign.  Ysabel pointed out that the monthly lecture series will include information on environmental and family history, nutrition, Zumba dance exercises, and more.
For more information about how to get involved with Latinas Contra Cancer and the upcoming events visit www.LatinasContraCancer.org.