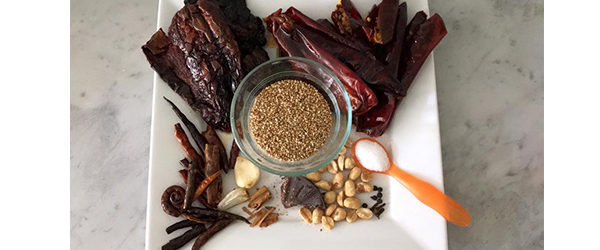 by Sindy Hernandez de Cornejo
Most people associate mole with either Puebla or Oaxaca , but the origin of mole poblano, the thick, rich, chocolate-tinged sauce made so famous in the colonial mountain city of Puebla, Mexico, is still disputed. I myself have never been to Puebla nor Oaxca, but I have tried variation of mole Poblano and Oaxaqueño. I am from the Michoacán region where our mole, at least where from where I am from, is not as sweet and dark as mole Poblano or Oxaqueño, mine is a bit sweet, bit spicy, and nutty, and the best part about my mole is that it is super easy to make and it tastes like it took you hours to prepare, just like traditional mole does.
This particular recipe is for mole in the Crock Pot, but you can follow the same directions for the sauce. Cook the chicken, preferably thighs because they have more flavor, or combine equal parts thighs to breasts, as if you were making a broth with onions, salt, pepper, carrots, celery. The broth will be used to blend the sauce ingredients.  You need to blend the sauce ingredients thoroughly, until it looks very thick and smooth. Note that you need to add chicken broth little by little as it gets thicker and blender starts sounding forced, you'll know you need to add more broth.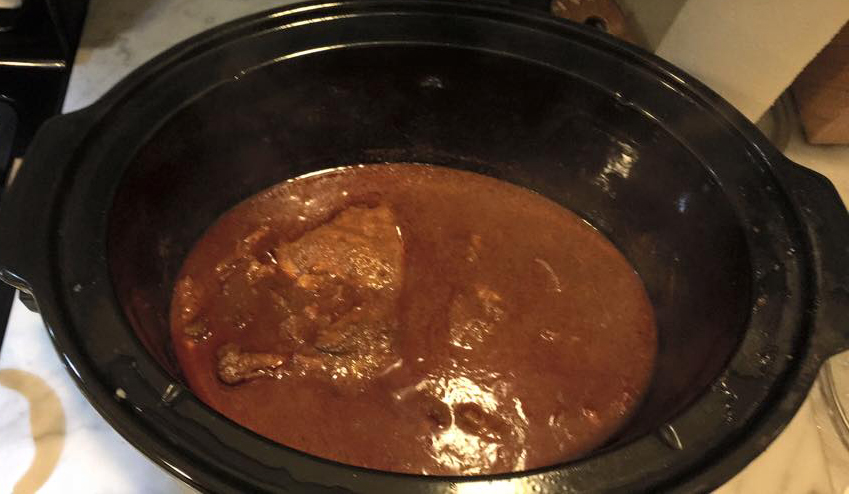 CROCK POT MOLE: MOLE A LA UNO…DOS…TRES…
Ingredients
6 chiles guajillo
3 chiles pasilla
6 chiles de arbol (this is for a mild-medium spicy sauce, use less or more as desire spiciness)
2 garlic cloves
1/2 cup toasted sesame seeds
One handful of toasted peanuts
6 peppercorns
3 cloves
4 cups of chicken broth
1 teaspoon salt
Directions:
Toast all chiles and garlic in oil at low heat, on a well preheated pan with oil. Toast each side of chile for about 5 seconds and be sure not to burn them or the mole will be bitter.
Sauce Prep:
Blend all the ingredients together with 2 cups of chicken broth. You will need to blend this for a some time in order to get a thick and smooth sauce. You will need to add more broth as you blend, you might end up using all 4 cups of broth. You'll know you've blended enough when it is a smooth and thick consistency.
Place the chicken thighs on the crockpot and season with garlic salt, salt, pepper and pour the sauce mixture on top, cover and cook on low setting for 5 hours.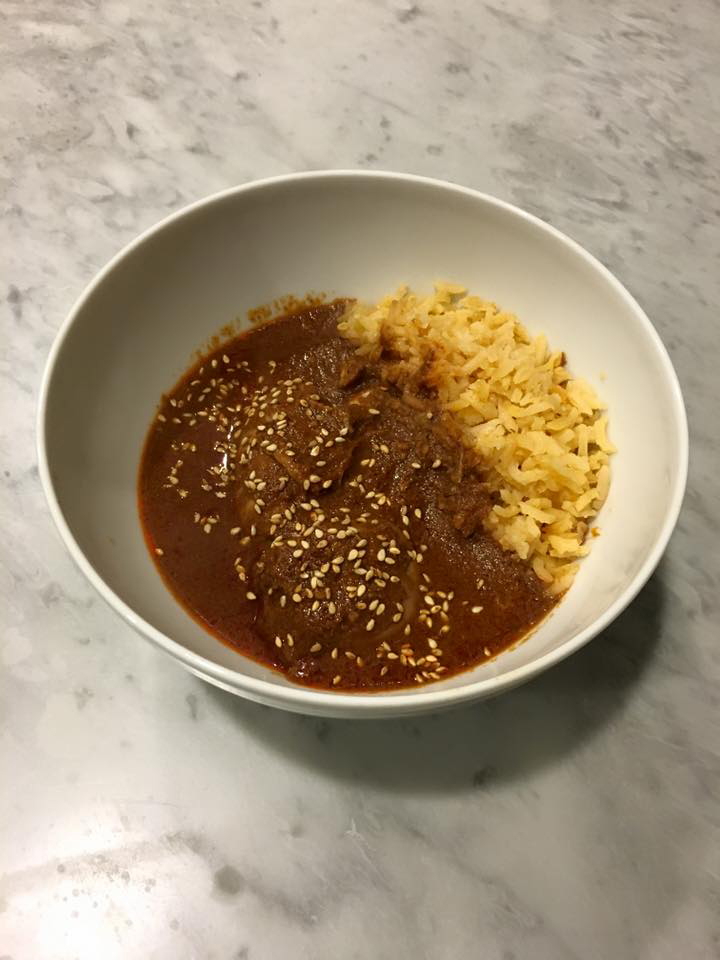 Serving:
Traditionally Mole is served with Arroz Mexicano, and here's a quick and easy way to make it.
Preheat some oil on a pan and toast one cup of rice until it's light golden brown. Once you've attained the right color, add two cups of chicken broth and two tablespoons of tomato paste or tomato sauce, taste fro salt and if needed add some salt or garlic salt. Cook at medium low heat for about 30 minutes, and voilà you've got Mexican rice.
Serve the mole over the rice, sprinkle some toasted sesame seeds and enjoy!
BUEN PROVECHO!
Sindy Hernandez de Cornejo is a mother of two, fashion designer, stylist, and business owner of Queen's Shoes & More. Her blog Cooking in Heels infuses her love for fashion and food showcasing her creativity to make delicious and healthy dishes.