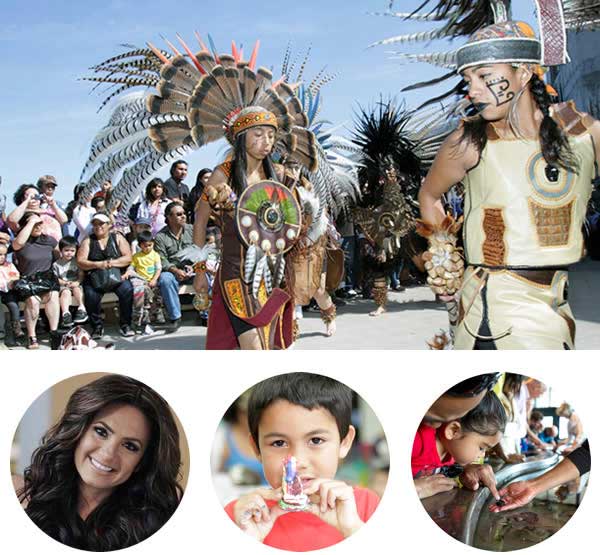 Fiesta del Mar is an annual Latin American cultural festival celebrating ocean conservation on Sunday, October 19 at the Monterey Bay Aquarium. This year's fun-filled day will include activities for the whole family, including live performances by musicians and traditional Aztec dancers, bilingual feeding shows and crafts for kids. Children ages 12 and under will be admitted free to the aquarium all day.
NBC Bay Area news anchor Kris Sanchez will be presenting the "Héroe del Medio Ambiente" ("Hero of the Environment") award to actress, musician and star of "12 Corazones," Penelope Mechaca, for her commitment to promote awareness of and protect the world's oceans.
This year's "Líder del Futuro" ("Leader of the Future") award recipient is student Jonathan Rincon, who has inspired peers with his dedication to ocean conservation projects through his participation in the aquarium's Watsonville Area Teens Conserving Habitats and Teen Conservation Leader programs. Rincon is currently in his first year at the University of California, Santa Barbara, and intends to pursue a career in environmental architecture.
Award presentations begin at 2 p.m. on the Great Tide Pool deck.
This year's Fiesta del Mar events include:
Interactive musical performances by MEXIKA at the Coastal Stream; 10:30 a.m. – 1:30 p.m.
Yaocuauhtli Aztec Dancers on the Great Tide Pool Deck; 11:30 a.m., 12:30 and 1:45 p.m.
Family crafts and activities in the Discovery Labs; 1 – 5 p.m.
Live music with William Faulkner performing on a Jalisco harp in the Discovery Labs; 1 – 5 p.m.
Penguin feeding program, presented in English and Spanish; 3 p.m.
Kelp Forest feeding program, presented in English and Spanish; 4 p.m.
In addition, to all the great event programs you will also have a chance to view the new Tentacles exhibit. Learn more about the astounding lives of octopuses, squid and cuttlefishes in this special exhibition.
You can have a chance to win a family pack of tickets to the Monterey Bay Aquarium. The giveaway begins October 14, 2014 through October 22, 2014 at 12:00 AM PST.
How To Enter:
You can enter up to six times per person via different entry methods mentioned above. This giveaway will end October 22, 2014 at 12:00 am PST. The approximate retail value of the prize is $129.80. The winner will be drawn using random.org. Once winner has confirmed prize, the winner will be announced on Facebook. All entrants must be at least 18 years old and a US resident. Prize fulfillment will take 4-6 weeks.