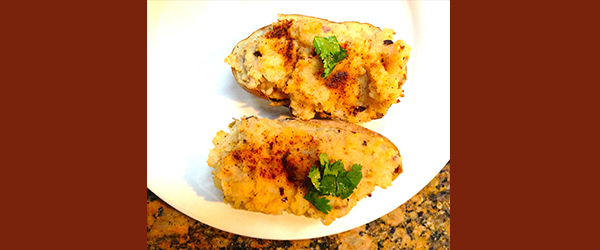 by Laurie Scolari
Ingredients
potato
corn (frozen or fresh)
cilantro
kale (any kind), chopped
guacamole
lemon juice
sweet red pepper diced
salsa
Directions
Poke potato with knife or fork.
Bake for 30-45 min.
In an iron pan, roast the corn and sweet red pepper for 5 minutes on high heat.
Mash inside of potato, add all ingredients, and squeeze half of a lemon in each potato. Top with guacamole and salsa.
Why Potatoes? White potatoes have been shown to suppress the growth of breast cancer cells.  I eat them nearly every day.
*This meal is #plant-based #vegan #oil free #salt free #gluten free
Laurie Scolari creates plant-based meals inspired by my mother's hometown of Puebla, Mexico. The recipes are plant-based, vegan, gluten free, oil free, salt free, cancer-fighting meals. She practices an immune-building exercise plan, and researched the most effective methods for promoting health. She created her blog, Planta to share her story and plant-based recipes to help others beat breast cancer by living a cancer-free, healthy lifestyle.