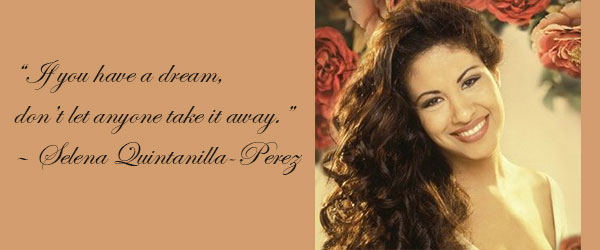 by Linda Castillo
Music has the ability to elicit so many memories and recapture a moment in time in our lives. Whenever I hear a song from Selena Quintanilla-Perez, I am taken back to my early twenties, a time when I was learning more about my culture by taking Chicano Studies and Spanish classes in college. I instantly had a connection with Selena and her music. It was the first time that I saw someone in the spotlight who was living a bicultural life. She was a Mexican-American, who like me, was not fluent in Spanish. Selena began to study Spanish at a later age in life, however you would never know this as she sang in Spanish so beautifully and naturally.
Selena was living the dream of many Latinas. She was a superstar who performed internationally in sold out stadiums. It was not only her immense talent that made her so special and adored but also her connection to her family and fans, pride in her culture and the fact that she never forgot her humble beginnings.
The Making of a Star
Selena Quintanilla was born on April 16, 1971, in Lake Jackson, Texas. Selena's singing career started at the young age of 10 when she became the lead singer in the family band, Selena Y Los Dinos. Along with her brother Abraham and sister Suzette, the siblings became familiar performing in front of crowds.
In 1987, Selena swept the Tejano Music Awards winning "Best Female Vocalist of the Year and "Performer of the Year." She continued to have success with her 1990 album, Ven Conmigo all of which garnered her name as "Queen of Tejano".  Selena continued to create award-winning albums including Live and Amor Prohibido.
Selena's music had such a wide appeal. It was a fusion of so many genres, drawing from the influences of pop, Tejano, calypso, Afro-Caribbean, and cumbia music. Selena had her heart set to create an English-language album and had begun to record songs in the studio. Sadly, she never saw her dream to top the U.S. pop music charts. In 1995, Selena's life came to a tragic end when the founder of Selena's fan club, Yolanda Saldivar murdered her. Her first crossover album, Dreaming of You (1995) became the fastest-selling album by a female artist in pop history.
Selena's Legacy will Forever Live On
Selena's shocking and tragic death left so many grief-stricken. In Selena's hometown state of Texas, the cities of San Antonio and Corpus Christi were filled with shrines, memorials and vigils for Selena mourning her death. In response to her adoring fans requests, the Quintanilla family established a museum in South Texas in 1998 to remember the life of their beloved daughter Selena. Fans can experience Selena's hometown and see her red Porsche, awards, and famous stage outfits, among other memorabilia.There is also a memorial statue of Selena in Corpus Christi called "Mirador de la Flor" (viewpoint of the flower).
Selena's influence can still be seen today. Below is a painting inspired by Selena created by Chicano artist Francisco Franco. Graphic artist and entrepreneur Ruben Dario incorporated a Selena inspired design air freshener in his Fuchila Freshener line.
It has been 20 years since we lost our beloved Selena. Corpus Christi will be celebrating the life and music of Selena with a two-day festival in April the day after Selena's birthday of April 16. Fiesta de la Flor is the name of the festival and it will feature performances by Los Lobos, Steven James & The Jaded, A.B. Quintanilla & Los Kumbia Kings Allstarz, Chris Perez, Little Joe y La Familia, Los Palominos, Stefanie Montiel, the Jay Perez Band, Clarissa Serna and SA's Nina Diaz.
The memory and music of Selena will always be a part of our culture. One day I will introduce my young daughters to Selena. I know that they will love dancing and singing her songs.  Selena became an icon. Her memory and legacy will forever live on.
Linda Castillo is the Founder and Executive Editor of www.ModernLatina.com. She writes on topics that empower and inspire Latinas including art, motherhood, green living, culture, travel, and issues transforming the Latino community. Linda has earned a B.S. in Business and a M.S. in Mass Communications from San Jose State University.