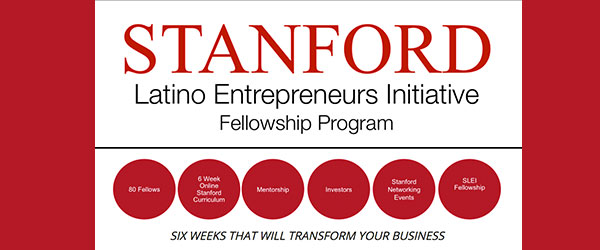 The Stanford Latino Fellows Program consists of nationally available six-week online education course, focused on business leaders interested in building highly scalable companies, providing them with the knowledge, skills, mentors, and access to capital they need to successful. There will be a day at the beginning of the course and a day at the end of the course on the Stanford campus. The final day will include a demo day and graduation night.
The custom online course is based on a course developed by two Stanford professors, who are internationally recognized as experts in scaling businesses – Professor Huggy Rao and Professor Bob Sutton.
The course entitled "Scaling Excellence Through Innovation" speaks directly to the scaling issue that our research highlights as key to the success of Latino owned Businesses. We have customized this course by adding content that speaks directly to the unique challenges Latino entrepreneurs might face in scaling their businesses, mentors, interns and access to capital. The program will commence and complete on the Stanford campus bringing together the fellows, mentors and leaders in the Latino owned business community.
APPLICATION PROCESS
We invite Latino business owners from across the United States with high potential firms to apply.
If you'd like to learn more feel free to contact our program manager ashley@slei.us
DUE August 24th midnight.
For more information visit http://latinoei.org/programs/education/sleifellows/