by Linda Castillo
Going to college is an overwhelming experience for anyone. For the first time in their lives, students are living on their own in a completely new environment and taking on new responsibilities. Students have to figure out the college system from what classes to take, required internships, and figure out their future career path. During this time in their lives, many students will end up feeling lost and alone.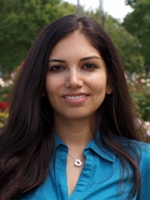 Stephanie Bravo was the first in her family to attend college and she recalls how difficult it was to maneuver through the college experience. She had the dream to become a doctor but she didn't have anyone to turn to for advice. Through a mentorship program she connected with a medical student who helped her with the complicated pre-medical path. And with her hard work, dedication and the guidance from her mentor, Stephanie graduated from San Jose Sate university with honors receiving a B.A. in Psychology and continued on to become a medical student at California Irvine School of Medicine. 
Stephanie remembered how her mentor helped her find focus for her future career and had such a positive impact on her life. Her mentor provided her with emotional, social, academic, and career support during her college years. From her mentor experience, she was inspired her to give back to her community by becoming a mentor and later the chair of a school mentorship program.
While her ultimate goal is to become a doctor, Stephanie recognized that many of the mentor programs were in-person and small-scale which left many students without access to mentors for career and academic advice. In response to that need and her positive mentorships, Stephanie was inspired to launch StudentMentor.org a national non-profit that matches college students with professionals in mentorships.
StudentMentor.org launched in October 2010 as the first-ever national college student mentor program leveraging technology to match long-term and short-term mentorship matches. The organization allows the flexibility for mentees and mentors to meet at their convenience via online, by phone or in person. Since its inception, StudentMentor.org has made significant strides with over 450 colleges and universities in the program and mentors from 700 different employers including Apple and Google.
 "I am very passionate about mentoring and StudentMentor.org. I want to bring it to everyone," explained Stephanie.
StudentMentor.org provides mentorship programs for any college or graduate student no matter where they go to school at or what their academic focus. Through StudentMentor.org students have access to mentors who can provide knowledge and experience during the critical stages of the student's academic or career development.
As one of the co-founders of StudentMentor.org, Stephanie had to overcome many obstacles. While Stephanie did have experience working with small scale mentorship program, she had to design the StudentMentor.org program from scratch. Through several iterations, she made changes based on feedback from the first group of mentor matches. Stephanie has also added many speaking engagements to her already busy schedule to raise awareness about the program.
When asked how she manages to do it all, she responded "You have to remain balanced – family, personal life and health. It has been a learning process."
With regards to the mentor/mentee relationship, Stephanie shared three tips for college students to build a great mentor/mentee relationship. First, Stephanie recommends that the student be a good listener. Second, the mentor has the ability to give good advice but the student has the power to put the advice into action. Third, the relationship with your mentor is what you make of it. Students should not be afraid to put themselves out there and share things that they want to do.
Currently, StudentMentor.org is seeking mentors from all industries. Mentors can be working professionals, job seekers, and retirees who want to serve as a mentor to a college student. Stephanie explained that the mentorship matches can vary from a short-term or long-term match ranging from a few weeks to months. The types of guidance can range from assisting a student with general career or industry advise to providing interview advice and practice.
"It is convenient and easy way to connect with someone from the next generation," explained Stephanie regarding the mentor role. "You are bestowing knowledge to them and empowering them."
Becoming a mentor is great way for individuals to enhance their leadership, communication, and coaching skills. StudentMentor.org has made mentorships highly flexible and convenient. If you are interested in making a difference in a young person's life or if you are a college student seeking a mentor, the application process is as simple as a few clicks away.
Linda Castillo is the Founder and Executive Editor of www.ModernLatina.com. She writes on topics that empower and inspire Latinas including art, motherhood, green living, culture, travel, and issues transforming the Latino community. Linda has earned a B.S. in Business and a M.S. in Mass Communications from San Jose State University.