by Linda Castillo
I read in the news that one of bathing products I used for my daughter's nightly baths contained trace amounts of potentially cancer-causing chemicals — dioxane and a substance called quaternium-15 that releases formaldehyde. I was so shocked that a company with such a solid reputation and one that had been around since I was a baby would put such a product in the market.  At that point, I was looking for bathing products that were free of chemicals and made from all natural products for my little one.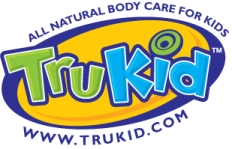 I purchased a variety of natural bathing products which just ended up drying my daughter's sensitive skin. I was frustrated and desperate to find bathing products that worked and are safe for my baby. It was at that point a friend told me about TruKid.
I was excited to try TruKid because 1) the products are all natural and chemical free 2) the product was developed by a mother, 3) I would be supporting a local small business started right in the Bay Area. All of TruKid's products are natural, non-toxic and safe for them and always FREE of Parabens, Phthalates, Gluten, BPA, SLS, petroleum, fragrances and any harsh chemicals.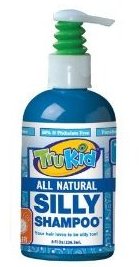 I had the opportunity to try the All Natural Silly Shampoo and All Natural Dancing Hair Detangler on my little one. My daughter has fine, curly hair and both products worked great for her. The shampoo has a good smell, washes out easily and my daughter did not have any skin issues after using the shampoo. I love, love, the All Natural Dancing Hair Detangler! My daughter wakes up every morning with unruly hair but all I have to do is spray some All Natural Dancing Hair Detangler to wake up her curls.
TruKid offers an assortment of safe and healthy skin, hair and sun care products for kids' and their families.  Just in time for summer, enter our TruKid Giveaway for a chance to win a TruKid Body Wash and Sunscreen Face Stick. The giveaway begins July 1 through July 15, 2012 at 12:01 AM PST.
How To Enter:
You can enter up to six times per person via different entry methods above. This giveaway will end July 15, 2012 at 12:01 am PM EST. The value of this giveaway is $18.98. The winner will be drawn using random.org.  Once winner has confirmed prize, the winner will be announced on Facebook. All entrants must be at least 18 years old and aUSresident.
Note: The products for this product review and giveaway were provided by TruKid.
Linda Castillo is the Founder and Executive Editor of http://www.modernlatina.com/. She writes on topics that empower and inspire Latinas including art, motherhood, green living, culture, travel, and issues transforming the Latino community. Linda has earned a B.S. in Business and a M.S. in Mass Communications from San Jose State University.