** This is part of a sponsored campaign with Latina Mom Bloggers and Dole Packaged Foods, LLC. However, all opinions expressed are my own.**
by Linda Castillo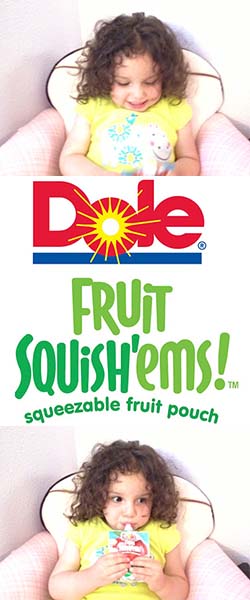 As soon as my daughter was old enough to start eating food, I did my best to provide healthy and wholesome food for her. I would buy organic vegetables and fruit to prepare all her meals for the week ahead. And even though I don't go through such a lengthy process to prepare her meals, I still do my best to ensure she is eating healthy meals and snacks.
During the summer, my family takes many road trips. And even though we are on-the-go, I still try to give my daughter healthy snacks. So I was excited to have her try new DOLE Fruit Squish'ems because they are a nutritious snack that I can have on hand when we are in the car. I also like the fact that each pouch contains a full serving of all-natural fruit at only 60 calories. More importantly, DOLE Fruit Squish'ems are BPA, GMO (not made with genetically modified or engineered ingredients), and Gluten free.
My daughter likes them because they are fun to eat – – squeeze, squish and it's all done. And they come in three flavors that she likes – apple, apple mixed berry, and apple strawberry.
The next time you are packing your bag of munchies for the next road trip, give DOLE Fruit Squish'ems for the little ones in your family. They are great portable and healthy snacks that your little ones will eat up. For more information about DOLE visit http://dole.com/fruitsquishems or connect with DOLE on Twitter @DoleFoods and Facebook.
Note: This is part of a sponsored campaign with Latina Mom Bloggers and Dole Packaged Foods, LLC. However, all opinions expressed are my own
Linda Castillo is the Founder and Executive Editor of http://www.modernlatina.com/. She writes on topics that empower and inspire Latinas including art, motherhood, green living, culture, travel, and issues transforming the Latino community. Linda has earned a B.S. in Business and a M.S. in Mass Communications from San Jose State University.