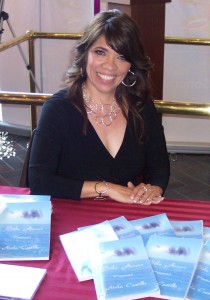 Poetry has the power to transcend the reader to a different world by striking an emotional chord, touching upon an experience or a deep feeling. This is exactly what Adela Castillo accomplishes with her written works of poetry. Having published several written pieces including Mundo Mío (World of Mine), Paisajes Internos  (Inner  Landscapes), Antología Sueños Compartidos  (Anthology of Shared Dreams), and Solo Amor (Love Only), Adela is a recognized poet within the local community and amongst her peers.
Born in Mexicali, Mexico, Adela recounts her vivid childhood memories and the first time she was moved by the written word.  At the young age of 15, she wrote her first poem which was inspired by love.  Adela remembers it clearly, "I wrote to a student in my class whom I fell in love with the shyness of an ever unanswered love.  This poem came from the painful depths of something that was impossible."
It was at that point when Adela knew that writing would always be a part of her life. "Poetry has been a fountain, my hope, my strength and my life since always.  I am a woman in fullness living by the side of a verse and waiting for the moment to write it down and begin to live again," Adela says.
Adela describes her poetry as "simple and although it is based on daily events, it has the power to reach the soul of the readers by providing a touch of hope that all can embrace."
To create her written works, Adela draws her inspiration from life itself including the love, pain and above all hope that comes with life. In the poem below, Adela was inspired by the desire of women to preserve their identity which she feels is often lost while juggling everyday responsibilities.
Sólo una Mujer
Sólo una mujer que va por la vida
en busca de amor, de alegría,
una mujer con alma de niña,
que lucha por ser ella misma.
Una mujer simplemente,
buscando, quien sea su aliciente,
quien quiera compartir su vida,
sin robarle esa inocencia escondida.
Una mujer, que siente, que goza,
que con facilidad también llora.
Esa soy yo, quizás un poco loca
quien toma de la vida
lo que esta le otorga.
Una mujer… con metas y retos,
Con triunfos y anhelos
Con tropiezos y miedos,
que no paralizan los sueños.
Una mujer, que ama la vida,
llamándola…MOMENTO.
Adela is sharing her passion for poetry with the Salinas community in the upcoming The Noche Bohemia event. In collaboration with Jose Alejandro Moran, together they created the event to bring together local artists to create a unique experience where the heart, the mind, and the soul inspired and engaged to feel the power of love, hope, and goodness through art.
"After having participated in similar events in Yuma, Arizona we realized that there was a need for a 'Noche Bohemia' in Salinas.  This will be the third such event and each year the enthusiasm and participation from the community increases," Adela says.
A Night of Love, A Night of Art, A Night of Community By The Noche Bohemia will take place at the Steinbeck Center, Friday, April 16 from 6 p.m. to 9 p.m.  This free event will include piano and flute, classical performances, along with poetry, songs, paintings, and photography primarily in Spanish.
Adela is committed to giving back to the community, continuing writing and promoting poetry. In fact, one of Adela's goals in the near future is to offer workshops to the community because she feels that writing liberates the mind and soul.