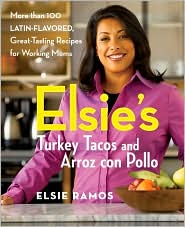 Arroz con Gandules
(Serves 6)
 ¼ cup of vegetable or corn oil (enough to coat the bottom of your caldero)
1 – 15 ounce can of pigeon peas (gandules) drained
½ cup of pimiento-stuffed Spanish green olives
1 – 8 ounce can of tomato sauce
1 – teaspoon of Sazon seasoning
½ pound of cooked ham, diced into ½ inch cubes
2 tablespoons of sofrito
2  cups of long grain white rice, rinsed
Salt to taste
Heat the oil in a caldero or heavy pot over medium heat.  Stir in sofrito, tomato sauce, sazon and ham pieces and bring to a simmer for about 2 to 3 minutes.
Stir in your peas and continue to simmer another 2 minutes.
Stir in the rice and mix until well coated with the sauce.  Add 4 cups of water and raise the heat to high.  Once the mixture has come to a boil, add salt and continue to cook until the water has evaporated and oil the rice remains.  Lower your heat an cover.
Continue to cook for 10-15 minutes or until rice is soft and fluffy.