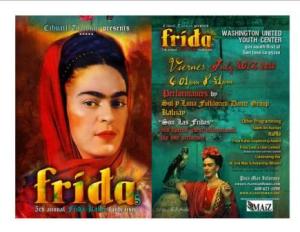 The members of the grassroots San Jose women's group Cihuatl Tlatocan have been busy finishing up the last minute preparations for the upcoming 5th Annual Frida Fundraising Event on Friday, July 30.  The event has many special activities and programs including performances by Sol y Luna Folklorico Dance Group, Kalizay Hip Hop, "Son Las Fridas" Jarocho Son and more.  Additionally, at the event the Ni Una Más Ni Aqui Ni Alla!(Not One More, Not Here, Not There) Scholarship for Latina Victims of Violence against Women will be celebrated along with the announcement of the Frida Kahlo Leadership Award. Other programming includes a silent auction, raffle, Frida look-a-like contest, and more.
The event was named after Frida and the first event was held on her birthday because the original organizers of the event identified with her.  "Frida deserves a celebration and Frida is an introduction to other mujeres lideres (woman leaders)," explains Elizabeth, the organizing chair for this year's Frida event. "Frida is a popular icon that mujeres (women) can gage towards social justice."
This event is just one of many programs that Cihuatl Tlatocan is responsible for. Cihuatl Tlatocan (Gathering of Women in Nahuatl, an indigenous language of Mexico) is a member organization of the MAIZ alliance whose goal is to develop leaders and use cultural advocacy in order to increase political participation in the San Jose Mexican community specifically among Women, Youth, LGBTQQI. Cihuatl Tlatocan focuses on fostering leadership to change the social conditions of Mexican Women using education, comadrismo, cultural and community action.  Through events and special programs such as the Frida Fundraiser, the organization seeks the liberation of Mexican women at an individual and community level in a collective struggle towards social change.  
 "We are all volunteers and it is really a grass roots organization. This fundraiser is what helps us do the work and sustain the work we have been doing" explains Elizabeth Gonzalez.
In addition to the Annual Frida Fundraiser, Cihuatl Tlatocan is responsible for the Ni Una Mas Scholarship, Hungry for Justice Campaign, International Womyn's Day March and Festival, and much more. For information about Cihuatl Tlatocan or Maiz and information about how to get involved, visit www.alianzademaiz.org or email cihuatl.tlatocan@gmail.com
 Who: Cihuatl Tlatocan
What: 5th Annual Frida Kahlo Fundraiser $10 Donation at the door and free for children under 18 years old.  The event will take place Friday, July 30 from 6 p.m. to 8:30 pm
When: Friday, July 30  from 6 pm-8:30 pm
Where: Washington United Youth Center, 921 South First St., San Jose Ca 95110