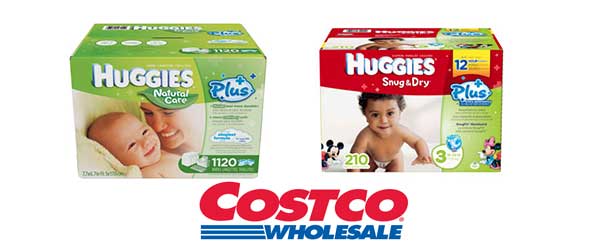 This is part of a sponsored collaboration with Costco and Huggies®. However, all opinions expressed are my own.
With a toddler and newborn in our family, it seems like I am always at the store picking up baby supplies. And one of my favorite spots to pick up baby items is at Costco. Costco exclusively offers Huggies® Snug & Dry Plus Diapers and Huggies Natural Care® Plus Wipes.
Huggies® Snug & Dry Plus Diapers has been my favorite diaper brand that I have used with my oldest daughter and now I am using them on my newborn. With the trusted Leak Lock® system these diapers hold up without any leaks during daytime play and nighttime.  Plus, the SnugFit* waistband and unique Grip Tabs provide a secure fit allowing my daughter to move around comfortably while the diaper stays in place. And bonus that the diapers come with cute little Mickey Mouse designs.
Huggies Natural Care® Plus Wipes are so soft and gentle, perfect for my little one's sensitive skin. I store the wipes in the baby wipe warmer so that they are warm and ready to go for each diaper change or just to wipe my little one's face or hands. I also like the fact that the wipes are hypoallergenic with aloe and vitamin E and fragrance and alcohol free. And now Huggies Natural Care® Plus Wipes come in an new pack with 2 kinds of refillable dispensers, plus 1160 refill wipes to keep you stocked at home or on the go. And it's a bonus that one of the refillable dispensers is the new stylish Huggies® Clutch 'n' Clean* pouch with a strap so that it is accessible anywhere.
You can't get Huggies® Snug & Dry Plus Diapers and Huggies Natural Care® Plus Wipes anywhere but Costco. So I always make sure they are in my cart when I make my monthly trip to Costco.
But don't take my word for it, try them out on your little ones. Costco Members – Click HERE https://shoppersampling.com/orders/huggies_getsample.html to register for a FREE sample of the Huggies® Snug & Dry Plus and Huggies Natural Care® Plus Wipes. Hurry and register now, there will be a limited number of samples each day starting today July 17th through July 26, 2014 so try back tomorrow if you aren't able get a sample today! You must be a Costco member to get a sample and limit 1 sample per household.