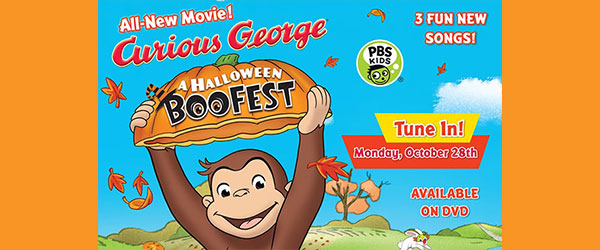 This is a compensated campaign in collaboration with Latina Bloggers Connect and WGBH.
Curious George is one of my daughter's favorite cartoon characters. We love to watch the cartoon together and we read stories about Curious George's funny adventures. So we were excited to take part in the special bloggers' viewing party kit that included Curious George: A Halloween Boo Fest DVD, Jorge el curioso va a una fiesta de disfraces/Curious George Goes to a Costume Party (Bilingual) book and two activity sheets.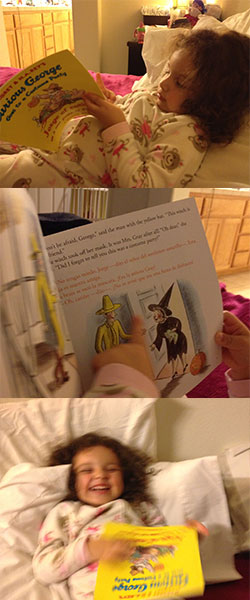 For the last week, we have been reading the book Curious George Goes to a Costume Party before she goes to bed. My little one laughs at all the crazy and funny situations that Curious George finds himself in. And as a parent, I love how Curious George's inquisitive nature also brings that out in my daughter. She starts to ask why and she wants to know how things work.
Now you can join the fun and start your Halloween festivities with your kids by watching the first Curious George Halloween special A Halloween Boo Fest will debut on PBS KIDS, October 28th.  In this new movie, it's George's first Halloween in the country, and Bill tells him and Allie about the "Legend of No Noggin" – a spooky tale about a hat-kicking scarecrow who haunts the countryside on Halloween.  But is the legend really real? George and Allie are determined to find out by taking a picture of No Noggin in action.  But first, George needs to figure out what he's going to be for Halloween so he can win the costume contest at the town Boo Festival.  Will George's quest for the perfect costume interfere with his quest for the truth? Only the curious will find out! Pbskids.org/curiousgeorge
From carving pumpkins, costume contests, and trick or treating, you can now include Curious George into your family Halloween activities. If you miss the movie airing on PBS KIDS, you can purchase the DVD in stores now as well. There are two downloadable activity sheets that are great for classroom or kid party activities.
Halloween Boo Fest Tic Tac Toe: http://to.pbs.org/GZwiGD
Make your own Curious George Mask: http://to.pbs.org/16KfblE
We hope that your family will watch the Curious George: A Halloween Boo Fest special and have a safe and fun Halloween!