by Linda Castillo
If you are into sports and Dia de los Muertos, then you are going to love Dia De Los Sport Clothing. This company was founded in April 2011 by a mother and daughter team, Irene and Paula Garcia who combined their love for the Latin culture, the Dia de los Muertos celebration and sports to create this new t-shirt line.
The Garcia family's traditions sparked the idea to create Dia De Los Sport Clothing. Paula remembered that early on her mother, Irene instilled the importance of keeping the cultural traditions with the family.
"My mom has always kept the importance of our culture in my life from all the teachings of the food, having homemade tortilla nights so that my sister and I can get down making our own tortillas, to our annual tamale day at my grandma's house where we all gather to make tamales for our huge family. Dia de los Muertos celebration is another part of our culture that my mother has shown me to love," explained Paula.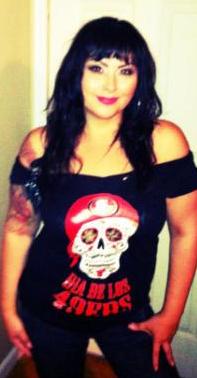 The Garcia family always came together to watch and support Bay Area teams. Watching sports was another way to connect as a family. "My mother and I are huge sports fanatics!! We have much love for our bay area teams of SF Giants, SF 49ers and San Jose Sharks.  Of course we also support our other bay area teams but we are die-hard NINER and Giants Fans.  Since I was a little girl September was the biggest month of the year because we have the end of baseball season and beginning of football season, so it's always an exciting month. Baseball is either on the TV or the radio throughout the season and football is of course on every Sunday all day," recalled Paula. 
Growing up in a household that embraced Latin culture traditions and watching sports, it becomes evident how they combined their two loves to create the company Dia De Los Sport Clothing. And now this new venture has been another way for the family to be together as Paula, her mother, and her brother are all part of the business. The entire family is involved in the business from working closely with a graphic designer to create their original pieces and even selling the final products at local events.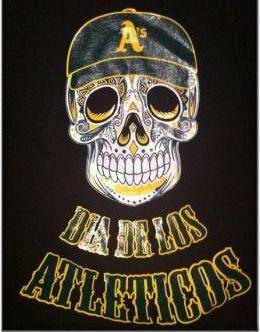 Paula explained how the concept came from simple translation. 'Dia De Los' is of course translated to 'the day of' so their first shirt design was Dia de los Gigantes (Day of the Giants). The concept just took off from there with the creation of a whole line of t-shirts for the Bay Area teams. The t-shirt line consists of Giants, Oakland As, 49ers, Raiders, Sharks and Cowboys designs. The line includes t-shirts for men, women and kids alike. The price for all adult men and women shirts is $20, kid's shirts are $15, and all hoodies are $30. While the company is just starting out, they have been getting requests to add more teams to their t-shirt line. Paula mentioned that soon they will be carrying tank tops and tube tops.
Currently, Dia De Los Sport Clothing is sold at local festivals. You can find their booth at the upcoming festivals:
Friday, October 28th Dia De Los Muertos celebration at MACSA center, San Jose
Saturday, October 29th Dia De Los Muertos celebration atNationalHispanicUniversity(Story Road), San Jose
Sunday, October 30th Dia De Los Muertos Celebration in Oakland
They are in the process of making a company website but in the meantime you can visit their Dia De Los Sport Clothing Facebook page to view new styles. If you can't make any of the festivals but still want to get your hands on one of the shirts, orders can be requested via Facebook and purchased through PayPal.
Since the company started it has received so much positive feedback from customers and people in the community who love sports and the Dia De Los Muertos style of clothing. 
"We would just like to thank everyone for their continued support to our company and hope they enjoy wearing their shirts," stated Paula.
While this company is just starting up, we are sure to see more from Dia de los Sport Clothing. If you are interested in buying a t-shirt as a gift for the sport lover in your family or if you are a retailer who is interested in selling these t-shirts in your store, email diadelossportclothing@gmail.com for more information.
Linda Castillo is the Founder and Executive Editor of www.ModernLatina.com. She writes on topics that empower and inspire Latinas including art, motherhood, green living, culture, travel, and issues transforming the Latino community. Linda has earned a B.S. in Business and a M.S. in Mass Communications from San Jose State University.