This is part of a sponsored collaboration with DiMe Media and Pampers.  All opinions are 100% mine.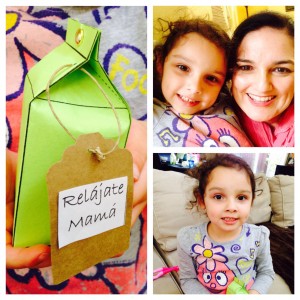 As a mom, I am filled with so much love for my children and in turn a greater and deeper love and appreciation for my own mother. Babies experience mom's love in many different ways. And those precious moments mom shares with her little one make every day special and worth remembering. With that said, I wanted to create a unique keepsake with my daughter for all the special moms in our lives. She has turned four and she loves making art and craft projects.
We went to Michaels to stock up on the necessities to make a homemade necklace for her grandma. I purchased Shrinky Dinks to create the necklace pendants. I love these because they are simple to make and a great way to display my daughter's artwork. She is quite the little Picasso!
My daughter and I enjoyed making personalized necklaces for her abuelita, grandma and tías. She also got a kick out of watching the pendants shrink in the oven too. In fact, she enjoyed making them so much she wants to make some more for her teacher, friends, cousins, grandpa and tíos! So look out you may be seeing one of her custom gifts soon.
DIY Keepsake Necklace Instructions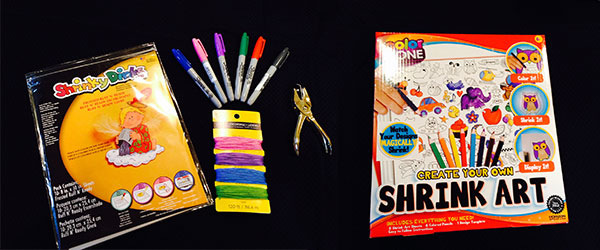 Supplies:
Shrinky Dinks Paper
Colored pencils or permanent markers
String for necklace
Hole puncher
Paper grocery bag
Instructions:
1) Purchase Shrinky Dinks sheets or the Shrinky Dink box set that includes colored pencils.
2) Cut out shapes that you would like the pendants to be. Make a hole punch to where you would like the string to go through.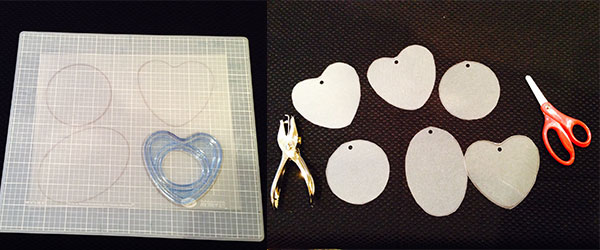 3) Color on the rough side with colored pencils or permanent markers. I opted to use Sharpie markers for a more vibrant color.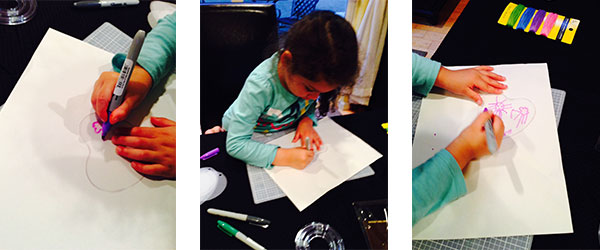 4) Set your oven to 325 °F (163 °C).
5) Cut up a paper grocery shopping bag to line the baking sheet. This makes removing Shrinky Dinks extra easy and protects the baking sheet. Bake for 2- 3 minutes. Tip: I recommend using an old baking sheet and folding one corner of paper bag up for easy removal from pan.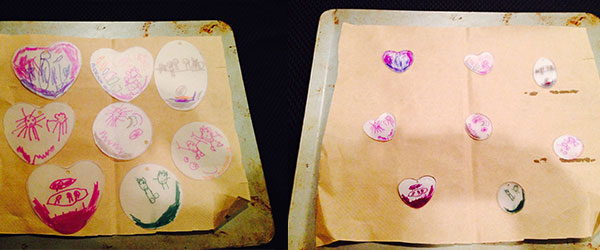 6) Remove tray from the oven and place it somewhere to cool.
7) Thread the string through the pendant to complete the keepsake necklace.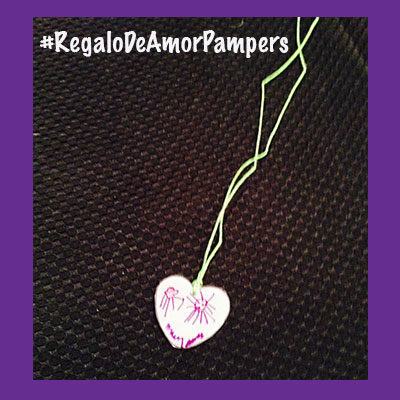 This Mother's Day, Pampers is celebrating moms and the precious moments of love with their little ones by giving the Pampers Gift of Love (#RegaloDeAmorPampers) to help families capture and cherish those loving moments with baby. Pampers has created a #RegaloDeAmorPampers gift basket to help celebrate and capture those special moments of love with their baby. The gifts include Pampers Swaddlers, Pampers Wipes, and a Michael's gift card to create a DIY Mother's Day gift for all the special moms, abuelas and tías in your life!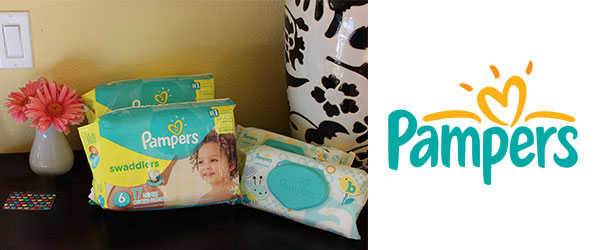 For a chance to win the Pampers Gift of Love (#RegaloDeAmorPampers) you can enter below. You can enter 3 times via methods below. The giveaway begins May 8, 2015 through May 16, 2015 at 12:00 AM PST. Please be sure to enter via Rafflecopter to track your entries. Good luck!
Mandatory entry, comment on your Facebook #RegaloDeAmorPampers  post about how they are celebrating motherhood this Mother's Day
Tweet about the giveaway using the #RegaloDeAmorPampers hashtag
Share and like the #RegaloDeAmorPampers Giveaway post on Facebook
Giveaway Guidelines:
You can enter up to 3 times per person via different entry methods mentioned above. This giveaway will end May 16, 2015 at 12:00 am PST. The winner will be drawn using random.org. Once winner has confirmed prize, the winner will be announced on Facebook. All entrants must be at least 18 years old and a US resident. Prize fulfillment will take 4-6 weeks.
Stay connected with Pampers: