by Brenda Eberly
With upcoming graduations and other family summer events my sister, mom and I were on a hunt for new dresses to add to our wardrobe. While shopping in Gilroy we decided to stop in and check out Dressbarn. It's been years since I've been in this store and honestly back then I could never find anything that worked for me. I'm always on the lookout to find stores that carry contemporary and trendy styles that are good quality and affordable. I'm so glad I re-discovered Dressbarn because they have such pretty dresses for every occasion. I was so excited to find that they carry brands such as Calvin Klein, Ellen Tracy, Jones Studio, and Collection. They have a large selection of wardrobe staples including casual, work and formal attire available in petite, misses, and plus sizes.
It was a great shopping experience and the ladies Martha and Carol were very friendly and helpful. We found so many fabulous styles it was so hard to choose so we all ended up walking out with lots of new additions to our wardrobe. With so many events coming up, we all found such beautiful and affordable dresses to wear.
We had a great time at a recent family event and received so many compliments on our new dresses. We were even color coordinated, how cute is that! Both my sister and I are wearing Calvin Klein dresses ($79.99) and my mom is wearing a dress and cardigan from the Dressbarn brand (dress $39.99 and cardigan $29.99).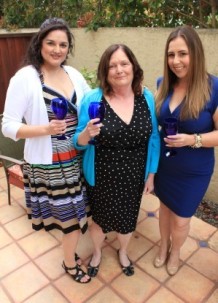 For our next event my sister and I both wanted fun bright colored dresses to wear to celebrate the beautiful weather and also to keep us cool and comfortable. Here's a pic of what we bought. My sister is wearing a green ruffle neck sheath crepe dress ($49.99) and I'm wearing a red poppy tiered layered dress ($49.99).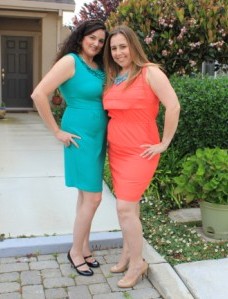 For a cocktail party we were attending we chose dresses with trendy fun prints both in sexy silhouettes. Since my sister and I are shaped differently, we chose dresses that would flatter our body shape. My sister is wearing a printed wrap dress ($39.99) and I chose a gathered cap sleeve ruched knit dress ($39.99). Too bad our sunshine went away and the clouds came in. Regardless of the weather, we had a great time!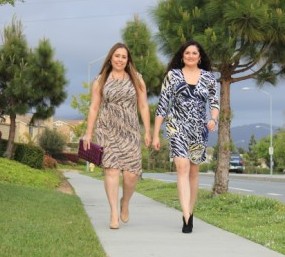 Everyone knows I love to find a bargain and was excited to find out that Dressbarn offers a blushPERKS program where you can earn blushPERKS points with every purchase. How it works is you earn 1 point for every $25 you spend and for every 10 points you earn, you will receive a $15 blushPerks reward that you can use towards your next purchase. There's no fee to join and the savings is great!
And if you're a party girl like me then you'll love to know that Dressbarn offers VIP (very indulgent party) events where you can host a private shopping party with your girlfriends for some fashion and fun times. You determine the date and time, they provide invitations and the best part is all your guests will enjoy VIP service and special VIP savings. As the hostess you'll enjoy 30% off and your guests will receive 15% off everything they purchase during the party. So ladies, get your girlfriends together and reserve your fashion party at Dressbarn!
Too bad my budget didn't allow for new shoes and accessories but I will definitely be back because they had a great selection. I also have my eye on a few maxi dresses that would be great for summer days at the beach or maybe for a trip to Hawaii (wishful thinking but a girl can dream right?).
You can find all these great styles we bought and more at http://www.dressbarn.com/
Note: Some of the dresses were provided by Dressbarn for this review.
Brenda Eberly has been a fashion stylist for the past 6 years; her obsession with the latest fashion and beauty trends can be traced back to when she first fell in love with fashion magazines as a teenager. As a boutique owner, fashion buyer and stylist she's always on the lookout for the latest fashion trends and beauty products. With a marketing and public relations background she can now put her writing skills and love for anything fashion and beauty to work as a contributing writer for Modern Latina.