by Vanessa Garcia
Have you ever wondered how that iconic image of the Virgin Mary ever came to be?  Would you believe me if I told you it was a divine artistic miracle and has been hanging in the Basilica of Mexico City since 1531?  Well you can learn all about it as El Teatro Campesino brings it biennial production of La Virgen del Tepeyac to Mission San Juan Bautista once again. 
Set in 1531, 10 years after the Spanish Conquest, La Virgen paints the portrait of the forced conversion of Mexico's indigenous population into Christianity.  This was a period of Mexican history where the Aztec religion was outlawed, and people died left and right from the dreaded cocolitzli (small pox).  With the diminishing population and religion, the Aztec identity was in jeopardy.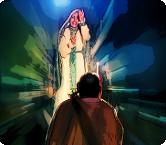 La Virgen tells the tale of the four apparitions of the Virgin Mary to the Aztec, and now Saint, Juan Diego.  "La Virgen emphasizes the divinity of Woman and its mythology.  It's an incredible uplifting story.  There isn't anything like it in the Christian world"  says Luis Valdez, who adapted the play from its legendary story. The Virgin Mary appeared to Juan Diego on the hill of Tepeyac as a dark skinned woman, resembling the people of the pueblo, in the wee hours of the morning on his way to church.  She brought with her a plan for peace between the Spanish and the people of Mexico. 
The play is performed in Spanish and is a pageant of music, Aztec dance, drama, and love.  The dancers sour through the mission as they stomp their way down the aisles, the sound of their huesos and the smell of copal transport you back to the sacred traditions of your ancestors.  And the pueblo people narrate the story through traditional songs.
La Virgen is an enchanting experience that fuses history with religion, myth, and magic.  It's the story of Mexico's most revered woman, whose divine intervention convinced the church to build her a shrine after her miracle occurred on December 12th.
Speaking of sacred feminine, El Teatro Campesino has taken this one step further and has been performing women plays by Latina playwrights.  In March the Teatro held Sister's, Spirit & Songs.  Which featured a variety of Latina themed actos, singers, and poets and can be viewed on their website.
La Virgen del Tepeyac plays November 26 – December 19 at Mission San Juan Bautista.  Tickets are $14 – $32 and can be purchased online.  Or you can call  831-623-2444 for more information. 
Vanessa Garcia has written for Modern Latina since 2008, in addition to Live en Vivo, and 831 Magazine.  Many of her articles reflect her interests in art, music, culture, travel, and the environment.  Vanessa received her Bachelor's degree from UCLA in Anthropology, and is currently finishing her Master's as San Jose State University in Mass Communications.