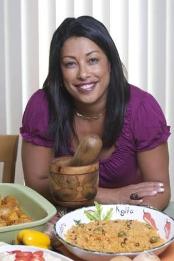 by Ariana Garcia
You're a mom, you've just gotten home after a long day's work, and there are seven men waiting for you to prepare a hearty meal. No this isn't a spin on Snow White; this is Elsie Ramos' life. Many women would quickly fall back on regular takeout and frozen dinners – not Elsie. With no sort of life training as a cook (She mentions: "My mother never really asked for help in the kitchen") this resourceful Latina decided to learn by trial and error.
Familiar with Elsie's prowess as a family chef, a few of her co-workers urged her to audition for the Fox show Hell's Kitchen. While Elsie had no professional training around a stove, her experience preparing healthy meals in a pinch for a large family served as awesome preparation for the show. Elsie continuously impressed Chef Ramsay and made it to the final rounds, and left with Chef as one of her many titles. 
After proving she could take the heat in the kitchen Elsie's company surprised her with an enrollment to The French Culinary Institute. This allowed the now Chef Ramos to add, as she said, "a little finesse" to her dishes. Finesse is by no means the finish line for Elsie. While many chefs would head the route of a restaurant, the budding culinary mastermind admits the undertaking would be too much of a commitment. Instead she has pursued the route that allows her to free her creativity and spend time with her family.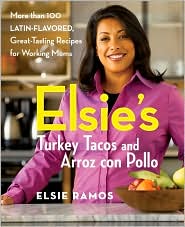 She has since published her own recipe book Elsie's Turkey Tacos and Arroz con Pollo: More than 100 Latin Flavored Great Tasting Recipes, which is not only a treasure trove of traditional Latin dishes, but also includes many tips for women who are short on time.  Elsie is also a spokeswoman for IMUSA Hispanic cookware and regularly crafts new recipes to promote their products. She has become a regular at health fares in her community (especially those that involve kids) and hosts regular cooking parties. Let's not forget that while following her passion, she has also kept her day job – making her a role model for modern Latinas in the U.S.
So the question still stands, how on earth does Elsie have time for it all? She admits "My biggest challenge is time." This is something every working mom (or working woman, for that matter) can relate to. Here's some advice she offers that may help conquer their apathy for daily cooking.
1)      Plan ahead: Elsie swears by planning meals in advance. She says, "Sit down on the weekends and make a list of the meals you'd like to make for the week." These don't have to be elaborate affairs, but even knowing that Tuesday will be spaghetti night relieves some of the stress. If you don't have time during the weekend, take a few minutes to think about it during your daily commute. Finally, buy foods that don't require much preparation time (such as frozen vegetables). Often, you can even prepare everything the night before so that when you get home the following day you can get right to cooking.
2)      Set the Mood: During our interview I asked how she managed to keep her sanity with the task at hand. Elsie responded, "To many people, cooking seems like a chore." According to her, the trick to change your mindset is to set the mood so preparing a meal is fun. She comments, "Whenever I cook I pour myself a glass of wine and I listen to music, then I get creative." So the next time you find yourself having a staring contest with your stove, think of ways to make the experience more enjoyable. After all, food tastes better when made with love and care.
3)      Involve the Family: Sometimes the enjoyment of eating a meal is even greater when you've prepared it. If you have kids, have them help you out. Children are more likely to eat what's on their plates when they have a say in the matter. This will also give you and your children some extra bonding time. Don't have children? Preparing a meal with your partner could be a very romantic and relaxing way to spend your evening.
4)      If at first you don't succeed …: Cooking can be a daunting task. Even Elsie admits that her first cooking attempts were less than glamorous, but rather than giving up she kept trying recipes and began adding variations. She also points out that the internet now offers an excellent resource for those who want to try new dishes.
 Take it from a mom turned pro, making meals can be an enjoyable part of your day. For more tips and tricks you can check out Elsie's website: http://elsieramos.com/. She was also kind enough to share a delicious holiday recipe,  Arroz con Gandules, with us you can check it out here.
Elsie is undoubtedly a modern Latina to admire. She has overcome many obstacles and has turned her enjoyment into a passionate endeavor. There is no doubt she will continue to make a difference with her innovative recipes.
Ariana Garcia lives in San Jose, CA. Her passions are languages, good books and anything sweet. She currently works in the online advertising industry. She holds a B.A. in Communication from Saint Mary's College of California.