Featured Event: The Art of Negotiation for Latinas Workshop / July 14
It is a known fact that women in general get paid lower salaries because they simply do not engage in the negotiation process. It is a known fact that one of the reasons women entrepreneurs do not reach their financial business goals is because they give their services and products away before stating their terms. If there is one area where women give their power away or fail to create power is in their failure to negotiate at strategic times. As Latinas, our upbringing and culture gets in the way of us feeling comfortable with negotiation. Learn how to alter that in an environment of authentic learning. Time: 6:15pm – 8:30pm; Location: 25 North 14th Street, Suite 400, San Jose, Ca. Sign Up: www.latinasuccessnetwork.eventbrite.com
Cher "Dressed To Kill" Tour/ July 2
Cher, along with Cyndi Lauper will make their way to the Bay Area for one show only this summer. The legendary diva's 50 year reign over the world of pop has made her the only recording artist to have No.1 hit in each of the past decades. Cher performed a record-breaking 325 concerts on her Living Proof: The Farewell Tour but despite the tour's title, Cher released her 25th studio album Closer to the Truth making fans thrilled with the announcement of her 2014 Dressed to Kill Tour. Directions: SAP Center 525 W Santa Clara San Jose, CA 95113. Ticket Information: http://www.ticketmaster.com/Cher-tickets/artist/734742
Morgan Hill's Freedom Fest/ July 4
Morgan Hill has a long day planned with fun activities in honor of Independence Day. Early morning begins with their 5k Freedom Run accompanied by classic cars cruising. The event will continue with their parade in downtown Morgan Hill followed by the entire afternoon and evening filled with entertainment throughout the community. Freedom Fest will conclude with their show stopper famous fireworks being displayed in the clear dark skies around 9:00 p.m. Directions: 16500 Condit Rd, Morgan Hill, CA 95037 (The fireworks will be held at the Morgan Hill Outdoor Sports Center with the field opening at 1:00 p.m. For more information regarding events, please visit mhfreedomfest.com.)
Rotary Centennial Fireworks/ July 4
Come join the San Jose community downtown to enjoy a free display of fireworks at 9:00pm. Directions: Discovery Meadow 180 Woz Way San Jose CA, 95110
San Francisco Fourth of July Waterfront Celebration/ July 4
PIER 39 celebrates Independence Day with fun for the whole family featuring musical entertainment and activities at their Entrance Plaza. Around 9:30 p.m, San Francisco will treat spectators to an elaborate fireworks display over the Bay. Directions: 2 Beach Street, San Francisco, CA 94133.
San Jose Giants Fireworks Extravaganza/ July 4-5
San Francisco Giants' single A ballclub will have a game against the Stockton Ports both July 4 and July 5. Following both games, fireworks will be displayed. Game time is 6:30 p.m. Directions: Muicipal Stadium 588 East Alma Ave San Jose CA
Scotts Valley's Annual 4th of July Parade and Fireworks/ July 4
The tradition continues again this year with the parade starting at 3:00 p.m. on Scotts Valley Drive and continues with music, games, and a petting zoo accompanied by delicious food.  Fireworks will be held at Skypark Park. The firework event gates will open at 4:00 p.m with the show starting at 9:15 p.m. Directions Sky Park 361 Kings Village Rd. Ticket Information: $8 for general admission. Children under 4 are free.
Hot San Jose Nights/ July 12
The sixth annual Hot San Jose Nights invites you and your family to a family fun event of bringing cars, planes and people together by showing off an incredible array of custom hot rods, planes, muscle cars, sleek sports cars, vintage cars, and new cars. They encourage you to bring your own cooler and chair to kickback at a fun day. Cars are displayed inside the airport and a festival in front for the children. Admission is free. Directions: Reid Hillview Airport 2500 Cunningham Ave
San Jose Buddhist Church Obon Festival/ July 12-13
The San Jose Buddhist Church Betsuin is hosting this year's Obon festival. Irasshai-Everyone is welcomed. The event will include game booths, food booths, cultural exhibits and demonstrations, the Chidori Band, San Jose Taiko, plu more than 1,200 dancers. The event will be opened from 11:00 a.m.- 8:00 p.m. July 12 and 11:00 a.m.- 7:00 p.m. July 13. Directions: 640 N. Fifth Street San Jose CA
California Rodeo Salinas/ July 17-20
California Rodeo Salinas is the largest rodeo in California. Salinas attract more than 700 top-ranked professional cowboys and cowgirls competing for over $400,000 in prize money. In addition, California's greatest young horsewomen will compete for the title of Miss California Rodeo Salinas. The four-day event includes the Rodeo Carnival, Kiddi Kapers Parade and Cowboy Poetry is also included. For more information visit the website. Directions: 1034 N Main St Salinas, CA 93906. Ticket information: http://www.carodeo.com/tickets-and-deals.aspx 
Mariachi and Ballet Folklorico Conference ¡VivaFest!/ July 25
With an expanded 7-day schedule of workshops followed by a vibrant season of music and cultural events. New this year is a class on the basics of coding for musicians offered by software engineer and vihuela master artist Juventino Mejia and a workshop on Jalisco harp offered by master artist William Faulkner. http://vivafest.org
The Essence of Friday Kahlo / July 26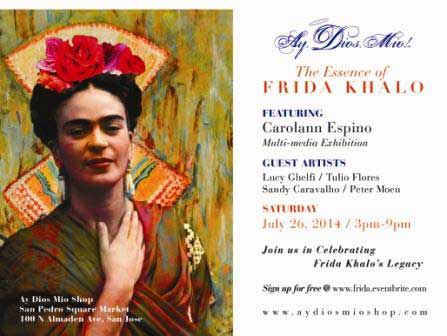 Come celebrate the legacy of Frida Kahlo with this multi-media exhibit featuring work from Carolann Espino. Time: 3:00 PM to 9:00 PM (PDT). Location: Ay Dios Mio Shop
100 N Almaden
corner of St. John/Almaden
San Jose, CA 95110. Register for this free event: http://bit.ly/1qZG39g
Gilroy Garlic Festival/ July 25-27
The Gilroy Garlic Festival has something to offer everyone. The event has live entertainment on three different stages, cooking demonstrations and competitions, arts &crafts vendors, fun activities and free garlic ice cream. The festival was first established to provide benefits to local charities and non-profits by promoting Gilroy's garlic that made them the garlic capital in the nation. Directions: Christmas Hill Park, Miller Avenue and Santa Teresa Boulevard. Ticket Information: $10-$20 General Admission. Children under 5 are Free.
¡VivaFest! presents "An Evening of the Music of Angels" / July 30
A concert recital by Jalisco Harp Maestro William Faulkner at the San Jose Women's Club. http://vivafest.org
Santa Clara County Fair/ July 31-August 1
The summer fair makes its way back to the fairgrounds inviting everyone to have a fun filled day enjoying carnival rides, performances, food and activities. Directions: Fairgounds 344 Tully Rd, San Jose CA