by Linda Castillo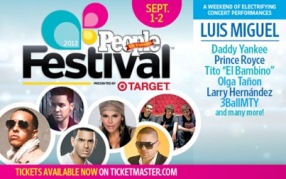 I was a sophomore in college when I was first exposed to the beautiful sounds of Luis Miguel. At the time, my professor was teaching the class about the subjunctive in the Spanish language and she played the music video for the song La Media Vuelta.
Yo quiero que te vayas por el mundo
Yo quiero que conozcas mucha gente
Yo quiero que te besen otros labios
The song sounded so sweet in Spanish and Luis Miguel was so handsome. I was hooked! Not only did I master the subjunctive in the Spanish language but from that moment on I became a fan of Luis Miguel. Right after class I went to the store to buy the entire album Segundo Romance and I have not stopped playing his music since.
This weekend, September 1 and 2, 2012, Luis Miguel will be performing at the Festival People en Español presented by Target. The two-day musical festival celebrating Hispanic entertainment, culture and community takes place inSan Antonio,Texas. In addition to the talented Luis Miguel, the musical lineup includes Daddy Yankee, Prince Royce, Tito "El Bambino", Larry Hernandez, 3BallMTY, and Banda Los Recoditos. Tickets for the festival can be purchased at http://www.ticketmaster.com/.
Mamiverse.com is celebrating the pride and passion of the Hispanic community with a series of articles and Twitter parties. This weekend, join Mamiverse.com's Twitter party celebration for a chance to win fabulous prizes including 16 concert tickets, $900 in Target gift cards and more:
Virtual Make-Over 'Salon' on Saturday 9/1 at 3-4pm EST will mirror a 'Beauty Day' with your bestie, on-site make-up tips, techniques, and more.
El Mundo Baila Twitter Party on Sunday 9/1 at 3-4pm EST will focus on the Latin music featured at Festival, including favorite songs, and pictures of key moments in artists' lives.
You can RSVP to Mamiverse.com Twitter Parties at http://on.fb.me/PpciPy or the Festival People en Español visit http://on.fb.me/Ou8tH5
Disclosure: I have been compensated for this post in collaboration with Latina Bloggers Connect. All thoughts and opinions are mine.
Linda Castillo is the Founder and Executive Editor of http://www.modernlatina.com/. She writes on topics that empower and inspire Latinas including art, motherhood, green living, culture, travel, and issues transforming the Latino community. Linda has earned a B.S. in Business and a M.S. in Mass Communications from San Jose State University.