by Linda Castillo
I am always juggling multiple responsibilities that come with being a working mom. I may be delivering a presentation at work in the morning and that same evening I am cooking my family a warm meal, washing clothes, and putting my little one for bed. Unfortunately, there are not enough hours in the day to accomplish everything on my to do list. And I am even busier during the holiday season with Christmas parties, family visits, and more.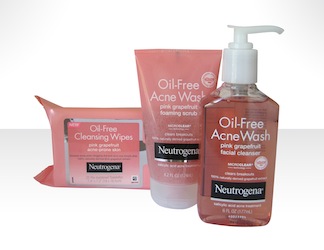 The winter season can wreak havoc on my skin with the harsh weather. To keep my skin looking its best, I try to be diligent with my face-cleansing regime – wash face, apply moisturizer and eye wrinkle cream nightly. However, I hate to admit it but there are nights that I am too tired to wash my face. And the next morning I regret it because I wake up with smeared mascara, dried out skin and new blemishes – yuck.
To counter the damage of the nights I forget to wash my face I try to do a few extra treatments to keep my skin feeling fresh during the holidays. I like to exfoliate my skin with a scrub cleanser and apply a mask to shrink my pores and smooth out my skin. Also, during the day I apply eye cream to help hydrate the sensitive skin around my eyes and I drink lots of water to rehydrate my skin.
I love the Neutrogena Oil-Free Pink Grapefruit cleansing wipes because they are great to keep in your nightstand for those nights I am just too tired to wash my face. All I have do is grab a wipe for my face – – viola clean! A bonus is that the wipes also contain salicylic acid (2%) to prevent any breakouts and smell yummy.
The Neutrogena Oil-Free Pink Grapefruit Line also includes cream, gel, and scrub cleansers deliver maximum-strength acne medicine while leaving your skin feeling, soft and refreshed. But don't take my word for it, next time you are at the store pick up one of the new products to change up your cleansing routine.
Note: This post is in collaboration with Latina Bloggers Connect and Neutrogena and is compensated. All thoughts and opinions are mine.
Linda Castillo is the Founder and Executive Editor of http://www.modernlatina.com/. She writes on topics that empower and inspire Latinas including art, motherhood, green living, culture, travel, and issues transforming the Latino community. Linda has earned a B.S. in Business and a M.S. in Mass Communications from San Jose State University.