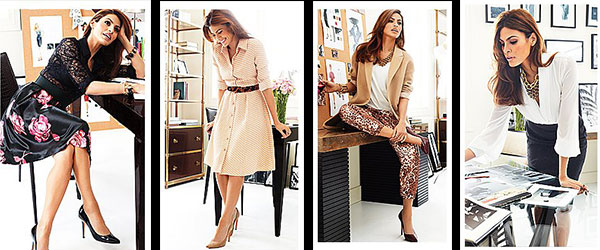 by Linda Castillo
We all know Eva Mendes as a talented actress and now she has jumped into the fashion world launching her line at New York and Company this week. The collection is filled with so many looks that I love including florals, black lace, leopard print and the dark cherry color. Eva did a great job designing the collection featuring classic and functional pieces that are trendy now but will work later too. The pieces incorporate a feminine and sophisticated style and they are very versatile too.
I love so many pieces in the collection. Apparently, I am not the only one because many of the pieces that I had my eye on are already sold out.  Let's hope they will be restocking soon! I want to get so many of the pieces from the collection but here are a few key pieces to add to your wardrobe:
Pia Prairie Shirtdress: Dresses are my go to for the office because you don't have to think about matching different pieces together. The polka dot shirtdress is perfect for the office.
Nina Suit Jacket and Bow Blouse – City Leopard: Every wardrobe should have a piece with leopard print. This blouse is a perfect way to punch up any outfit and works great from day to night.
Vanessa Lace Shirt and Siena Charmeuse Full Skirt – Vintage Rose: I love the look of this shirt and skirt combination – so vintage and feminine. I could wear this to the office or even to a day event like a baby shower or baptism. Absolutely beautiful!
Bow Shell – Eva Dot: This piece combines two of my favorite trends, polka dots and the rich color black cherry. This piece would be pennies per wear as I could match with a little black skirt, grey slacks, and jeans, too many options. 
Bianca Sweater Dress: As I mentioned above, I love this rich color of black cherry but this dress also comes in black too! You can pair with nude heels and during the colder months, I would wear with some fierce boots.
Gia Lace Bodice Sheath: If you don't already own a LBD (Little Black Dress) then this item is a must add for your wardrobe. And well if you already have a LBD it doesn't hurt to add another one to the collection.  This LBD is glamorous with the lace embellishment and can work for an elegant evening out or even for a work night event. Either way you will find many places to wear this little number.
Allegra Signature Necklace & Cristina Linked Grid Necklace:  A statement necklace can bring any look to the next level. These two necklaces from Eva's collection will change the look of any outfit.  Put on the Cristina Linked Grid Necklace to any office look and it will immediately go from boring to chic. And I love all the intricate details in the Allegra Signature Necklace. I would love to pair this necklace with coral or teal.
Note: All photos are courtesy of http://www.nyandcompany.com.
Linda Castillo is the Founder and Executive Editor of http://www.modernlatina.com/. She writes on topics that empower and inspire Latinas including art, motherhood, green living, culture, travel, and issues transforming the Latino community. Linda has earned a B.S. in Business and a M.S. in Mass Communications from San Jose State University.