by Melissa Jimenez
"Obviously tequila is one of the cultural treasures of Mexico, but on top of that, it is also a world-class spirit." -Juan Carlos Contreras of Tequila Don Pilar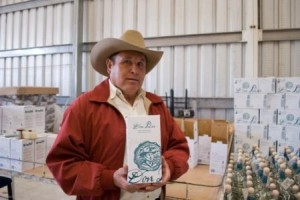 I had the special opportunity to interview Juan Carlos of Tequila Don Pilar, who is one of the most represented tequila brands of the Margarita Showdown and the Monterey Tequila and Mezcal Expo. Tequila Don Pilar had been the first to partner up with CYO Events as one of their biggest supporters from the beginning, and here is where their history and lively words are reflected.
MJ: What role do you serve with Tequila Don Pilar?
JC: My name is Juan Carlos Contreras and I am the son of Don Pilar. My father Don Jose Pilar Contreras grew up in the tequila highlands in the state of Jalisco. He is a third generation agave farmer who grew up in a large family where his father taught him the life of the ranch on how to raise agave, crops, and animals. As a young man he immigrated here to the U.S. and worked up and down California as a migrant worker in the fields. It wasn't until the 80's that he became a small business owner of Mexican taquerias and for the past 34 years he has had one foot here in the states and the other in Mexico. He would make frequent trips to Mexico to buy ranches and tend to the agave crops living the life both of an agavero and a restaurateur. It was through this agave experience that he eventually became part owner of a distillery, always with the dream and hope of launching his own tequila label, which he now has.
MJ: Personally I have noticed that there have been more tequila events throughout the Central Coast over the past 3 years or so. Do you feel that there has been a shift in the market for tequila in the recent years?
JC: Yes, definitely. On the market side there has definitely been an explosion of tequila brands. Obviously tequila has a long history in Mexico along with being imported into the states and everywhere around the world. From the 80s onward, high-end sipping tequila had started to become more prominent and it's within the last ten years is that it's grown into a renaissance so to speak for so many small and upcoming brands. A lot of this has to do with an abundance of agave. Small brands like ours have an opportunity to get into the market and it was no longer just the big guys, which we know as the Cuervos and the Sauzas of the world. In the case of my father and a lot of others that were in Mexico, who might have been growing and selling agave to the big guys they decided instead that they could do this for themselves. So definitely from the point of view of the producer, there has been a lot of new brands coming in the market, and from the point of view of the public, there is a lot more awareness about high-end sipping tequila. We are lucky to have a tequila brand because there is a very crowded marketplace today.
MJ: What differentiates your family-owned tequila manufacturing business versus other competitors?
JC: On one level what differentiates our brand Tequila Don Pilar from let's say the more established bigger brands, it's just that; it's the small brand that's family owned. To the consumer, there is a draw or an attraction to something that is small because they are looking for the new and undiscovered; the small and the artisanal. In our case with what I think is especially attractive or special about our brand, is the fact that there is a real person behind it, there is an actual Don Pilar. From start to finish, my father is involved in every aspect of the business, including the planting and the nurturing of the agave plants to the production of the tequila. He is the sole importer and distributer of the tequila, and he'll even go as far as delivering a case of tequila to a restaurant himself. He's going to be at the Monterey Tequila Expo with his cowboy hat, representing and promoting the brand. At the end of the day, it's important on what is inside of the bottle as well as the story behind it.
MJ: I completely agree. I know that in the past, I've seen him signing bottles at the MTME event and have also seen lots of positive interaction with his audience.
JC: Exactly, it's not only with the Latino community, but he is a representative of the migrant American dream. Like so many other Latinos, he came here with very little. He and many others have managed to make a living, raise a family, and become successful and positive role models.
MJ: I have noticed during my research online that you have an outstanding award-winning añejo. What makes your añejo rise above the rest to take the winning prize of tequila lovers?
JC: The most influential and more prominent feature of our tequila is the fact that we age it with what is known as a new barrel, or virgin barrel. Typically the tequileros will buy the barrels from a bourbon maker because they're cheaper than new barrels. For example, you can buy a used barrel for $30, but if you want to buy a new barrel it's going to cost you around $400-500. The new barrels have so much more oils, tannins, and in the end it gives the tequila more flavors. I think this is prominent about our añejo, it has a beautiful, deep golden color and wonderful butterscotch oak flavor to it. It is a very approachable and distinctive sipping tequila that a lot of people compare to fine bourbons and scotches.
MJ: You have been such a loyal and great supporter for CYO Events over the past few years, we'd like to know where and how you'd like to see them in the future as an event company?
JC: Part of the reason why we have been such supporters of CYO, is because of Cristal and Omar and how we have very similar backgrounds. I've met their family and they're a wonderful, tight-knit family. There's a lot of love with their family and that resonates with us. We hit it off from the start and we're after similar goals. On top of the fact that Monterey is a great place for us to market, it's an obvious partnership for both CYO and Tequila Don Pilar. I only know that tequila is going to get more popular with what they are accomplishing and establishing through these tequila events in Monterey. They definitely have a strong future ahead of them and I wish them all the luck. We expect to partner with them for as long as we are around.
Melissa Jimenez is a native of Monterey Bay, CA. She served in the United States military for six years and currently works for a non-profit organization. She has a deep love for baking, writing, music, and art. Melissa received her Bachelor's degree from Saint Leo University of Florida in psychology.