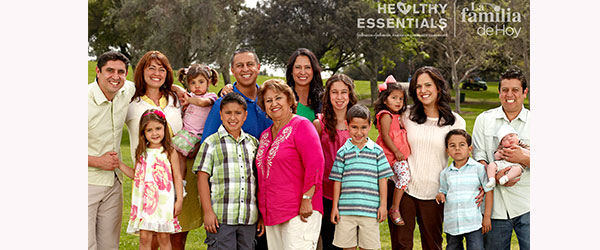 Disclosure: This is a compensated campaign in collaboration with Johnson & Johnson and Latina Bloggers Connect.
Recently, Johnson & Johnson introduced the winning Healthy Essentials' LA FAMILIA DE HOY™, la Familia Jiménez. La Familia Jiménez possessed many qualities representing values that Latinos relate and care about which brought this family to win the title of Healthy Essentials' LA FAMILIA DE HOY™ for 2014. The family includes father Juan, mother Biviana and their three children: Elisa, Diego and Benicio.
The Jiménez family is a modern, active, multicultural family. They are part of a larger extended family with family living next to each other in connecting backyards. The proximity of the family lends itself well to the special bond they have to help each other out and get together often for special occasions.
Similarly, our family is fortunate to have my parents and family live close by. I am so thankful that my parents help us watch our little one because I can't think of anyone else who I can trust with my baby more than them. Seeing my daughter share the special bond with her grandparents is so wonderful. They bring so much joy to one another.
The Jiménez family share Mexican and Colombian backgrounds and Juan is always making sure his children grow up learning and absorbing all the obtainable knowledge from their mom and grandma. Coming from a bicultural family, it is important that I incorporate traditions that my husband has with his family and traditions that I had shared growing up with my family. So my daughter has exposure to traditions from her Abuelita and her Grandma. We are also starting to teach her Spanish as we feel that keeping the language is so important.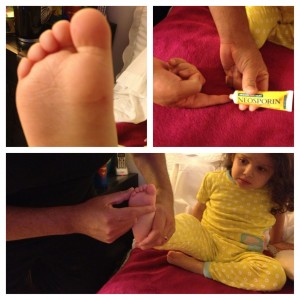 When it comes to taking care of my family, we also rely on Johnson & Johnson products. With a toddler always getting cuts and scrapes, one product that we always have on hand is NEOSPORIN. This ointment helps heal wounds four days faster than a bandage alone, provides 24-hour infection protection, and minimizes the appearance of scares. We love that it helps her booboos heal fast and minimizes scars. Learn more about Johnson & Johnson products by visiting their Facebook page.