by Michelle Arcos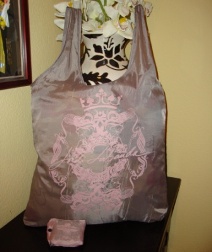 In honor of Earth Week, Modern Latina is going green! Earth Week, 2012 is a time to promote awareness and appreciation for the Earth's environment, sustainable living and earth awareness. People all over the world will recycle and conserve energy this earth week! This year, Earth Week runs from April 16th to Earth Day, April 22nd. We at Modern Latina want you Latinas to be a part of this great movement, and are giving away a stylish reusable shopping bag by designer, Jordi Labanda. Reusable bags are made from recycled materials and help cut down the use of plastic and paper bags. One reusable bag requires the same amount of energy as an estimated 28 traditional plastic shopping bags or eight paper bags.
Designer, Jordi Labanda was born in Uruguayin 1968 and moved to Barcelona, Spain when he was 3 years old. He studied industrial design at the Massana School of Art and Design in Barcelona. In 1994, he began his career as an illustrator inSpain. He has illustrated for the New York Times and many magazines such as Vogue, Marie Claire, Seventeen, Allure, Elle, and CosmoGirl. Jordi's designs feature girls that are sexy and sophisticated while also looking elegant and intelligent. His corporate clients include Details, Abercrombie and Fitch, Neiman Marcus, Geffen Records, Pepsi, American Express and many others. You can see and purchase his designs on such things as notebooks, folders, address books, mouse pads, cd cases and handbags.
How To Enter:
Subscribe to the Modern Latina eNewsletter 
Like the "Latinas Go Green" post Modern Latina on Facebook
Follow Modern Latina on Twitter and tweet #LatinasGoGreen
Like the Modern Latina on Facebook
You can enter up to four times per person via different entry methods above. This giveaway will end April 30, 2012 at 12:01 am PM EST. The value of this giveaway is $30.00. The winner will be drawn using random.org.  Once winner has confirmed prize, the winner will be announced on Facebook. All entrants must be at least 18 years old and a US resident.
Here are a few bags I like:
Michelle Arcos is a senior majoring in Human Communications at CSUMB, from French Camp, CA. She currently works at CSUMB for an outreach program called Educational Talent Search, and her job entails serving as a college advisor for students at Seaside High. She loves to travel, attend concerts and cultural festivals. She plans to spend the summer traveling to several cities in the U.S.