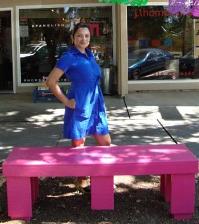 Gold Rush-era attractions, California State Capitol tours, outdoor adventures, dining and night life make Sacramento a great weekend getaway.  While in the area, one for sure stop to make is a visit to Spanglish Arte. Located off the beaten path in midtown Sacramento, Spanglish Arte is an innovative retail and art gallery featuring one-of-a-kind Latino, Chicano, and indigenous art and merchandise artwork, crafts and artisan made pieces with a touch of Latin flare.
Owner, Mari Arreola, has taken her passion for art and the community coupled with her education and professional experience to create this unique retail art space.  She studied at FIDM/Fashion Institute of Design & Merchandising and later graduated from San Francisco State University with a double major in La Raza studies and French language. Mari is familiar to being a small business owner, after graduating from college, she opened an interpreting agency that specialized in education, non-profit, and healthcare. She later moved to Sacramento where she continued gaining experience with La Raza Galeria Posada as a Store Manager and as a Creative Director for Spanglish Tees.
All of the collective experience and education formed the perfect building blocks for Mari to start Spanglish Arte. Mari wanted Spanglish Arte to be a gathering place and always offers special events from poetry readings, dance, film, and music.
"Created to be more than a boutique, I envision a space for people from all walks of like and backgrounds to share and learn from each other's unique experiences. I am dedicated to the idea that in today's world we do not have to choose between languages and cultures to the exclusion of the other," explains Mari.
Spanglish Arte brings a lot to the community by offering educational programming ranging from cultural and language enrichment to cooking classes for adults and children alike. Some of the Arte Workshops scheduled for 2011 include making corn husk flowers, rosaries, guacamole, Day of the Dead makeup, and so much more.  To view a full schedule visit the Spanglish Arte website.
Going into the second year of business for Spanglish Arte, Mari's drive and energy continues to flourish as she looks for new opportunities to improve programming, exhibits, unique merchandise, and more special events including poetry, dance, film, and music.