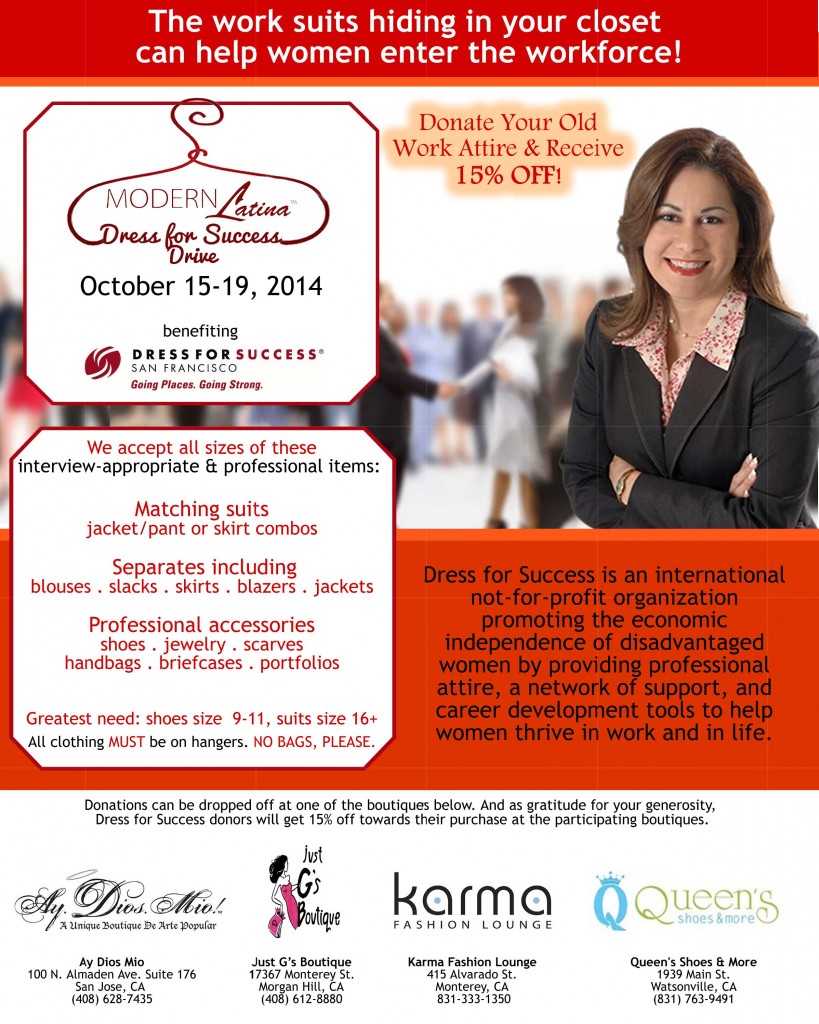 Many women lack the resources to purchase a suit for an interview to get that new job. Modern Latina has teamed up with four Latina owned local boutiques to collect professional attire donations for the non-profit organization, Dress for Success. When you donate you will receive a 15% discount good towards your purchase at participating boutiques. Donations will be collected from October 15-19, 2014 at the following boutiques:
Dress for Success is an international not-for-profit organization that promotes the economic independence of disadvantaged women by providing professional attire, a network of support and the career development tools to help women thrive in work and in life. Since starting operations in 1997, Dress for Success has expanded to more than 110 cities in 13 countries. To date, Dress for Success has helped more than 600,000 women work towards self-sufficiency. Visit www.dressforsuccess.org to learn more.
Dress for Success is in need of the following items:
Matching suit (jacket/pant or skirt) (We accept all size)
Interview appropriate and professional separates including blouses, slacks, skirts, blazers and jackets.
All clothing MUST be on hangers – NO BAGS, PLEASE.
Work appropriate shoes
Jewelry and scarves
Handbags (briefcases, portfolios or work appropriate handbag)
Current need: shoes sizes 9-11; suits size 16+ (we accept all sizes)
Please bring suit donations on a hanger!
Support Modern Latina's Dress for Success donation drive to help women make that transition to enter the workforce.  Plus, you will receive a 15% discount towards your purchase. What a great reason to clean out your closet and give back to your community!