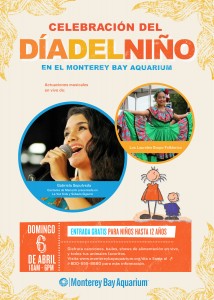 The Monterey Bay Aquarium will celebrate children and their families during the 13th annual Día del Niño event on Sunday, April 6. The day will be filled with special presentations, activities and performances throughout the aquarium. Children 12 years old and under will be admitted free all day.
During the cultural event, families will be both entertained and delighted with a selection of fun activities and lively performances.
Visitors can enjoy the traditional Mexican melodies of 14-year old Gabriela Sepulveda, who has been featured on national programs, "Sábado Gigante" ("Giant Saturday"), "Tengo Talento" ("I've Got Talent") and "La Voz Kids" ("The Kid's Voice") at 12:30, 1:30 and 2:30 p.m. on the Great Tide Pool Deck. Also on the deck, dancing troupe Los Laureles Grupo Folklorico (The Laureles Folkloric Group) will perform at 3:30, 4:30 and 5:00 p.m.
Special bilingual feeding programs take place throughout the day. A bilingual penguin feeding narration will take place at 3:00 p.m. at the Splash Zone penguin exhibit. At 4:00 p.m. in the Kelp Forest exhibit, visitors can see a bilingual diver hand-feeding sharks, fishes and other fascinating animals.
The Discovery Lab classrooms transform into a craft room from 1:00 to 5:00 p.m., where children can create and send a postcard to a friend or family member.
You can have a chance to win 2-adult tickets to the Monterey Bay Aquarium. The giveaway begins March 23, 2014 through April 6, 2014 at 12:00 AM PST.
How To Enter:
◦ Subscribe to the Modern Latina eNewsletter
◦ Follow Modern Latina on Twitter
◦ Retweet the Monterey Bay Aquarium Día del Niño 2014 tweet
◦ Like Modern Latina on Facebook
◦ Share the Monterey Bay Aquarium Día del Niño Giveaway post on Facebook
◦ Follow TU MONTEREY BAY AQUARIUM on Facebook
You can enter up to six times per person via different entry methods mentioned above. This giveaway will end April 6, 2014 at 12:00 am PST. The approximate retail value of the prize is $79.90. The winner will be drawn using random.org. Once winner has confirmed prize, the winner will be announced on Facebook. All entrants must be at least 18 years old and a US resident. Prize fulfillment will take 4-6 weeks.
Note: In compliance with FTC guidelines, please be aware that the Monterey Bay Aquarium provided the two adult tickets for this giveaway.