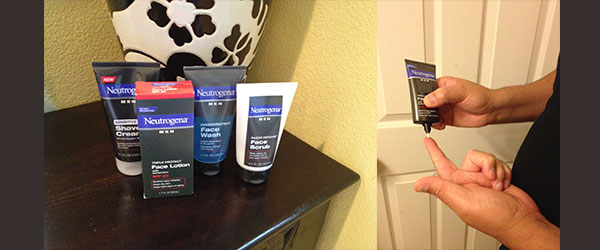 This is a compensated campaign in collaboration with NEUTROGENA MEN® and Latina Bloggers Connect.
If the man in your life is anything like my hubby, paying attention to protecting his skin is one of the last things on his mind. While my hubby is great when it comes to taking care of his health by working out religiously three to four times a week, when it comes to taking care of his skin he drops the ball there. My hubby will go out all day in the sun and come back about five shades darker!
While I have explained to him the relationship between sun and skin damage and risk of skin cancer, it seems to go in one ear and out the other. In an effort to keep him from getting sunburn, he used some of my SPF face lotion before his last golf outing. But I don't think that is the best solution since a guy's skin is so different from women. They have to deal with the irritation of daily shaving on top of damage from the sun and the effects of aging.
So I was excited for him to try out some of Neutrogena's new line of products for men. The line is specifically designed keeping in mind the irritation that men have from daily shaving, damage from the sun and effects on aging. Because men want skincare products that combine steps and make their lives easier, Neutrogena has created this Swiss Army Knife of skincare products including:
NEUTROGENA MEN® Sensitive Skin Shave Cream $4.99
NEUTROGENA MEN®  Razor Defense® Daily Face Scrub $5.99
NEUTROGENA MEN® Invigorating Face Wash $5.99
NEUTROGENA MEN® Triple Protect Face Lotion SPF 20 $6.99
I know that my hubby can stick to adding the NEUTROGENA MEN® Triple Protect Face Lotion SPF 20 into his daily routine. This product will do much more than anything he can find in my medicine cabinet.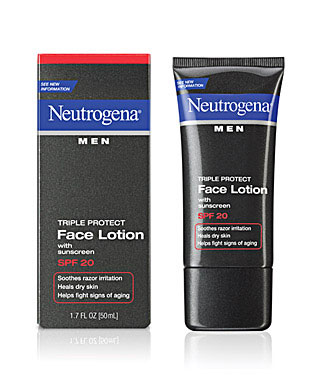 NEUTROGENA MEN® Triple Protect Face Lotion SPF 20:
The future of men's skincare has arrived, offering triple the benefits of ordinary post shave products:

Soothe razor irritation

– Anti-irritants, derived from licorice and chamomile help to calm skin and reduce razor burn

Heal dry skin

– Olive extract, glycerin, Pro Vitamin B5 and allantoin works to moisturize and heal dry skin

Defend

– Anti-oxidants, such as Green Tea Extract and Vitamin E help to protect skin from free radicals and environmental damage
Contains Active Soy to help fight the signs of fine lines and wrinkles
SPF 20 helps to defend against the damaging effects of the sun
So the next time you are at the store pick up some of these products designed especially for the man in your life. And then maybe he won't be dipping into your stash of skin products!  For more information about NEUTROGENA MEN® products visit: http://www.neutrogena.com.