On April 22nd 2014, communities around the globe will be celebrating Earth Day with different events that encourage community members to be engaged in protecting and conserving the planet one step at a time.
Bring Your Own Bag ordinance was San Jose's big effort to reduce the amount of plastic usage by banning plastic carryout bags and encourage the community to purchase a paper bag or bring their own reusable bag for more convenience. San Jose became the largest city to ban plastic bags in 2012.
One high-quality reusable bag has the potential to replace over 600 single-use plastic bags, significantly reducing litter.
According to a 2012 survey, San Jose's plastic bag ban reduced plastic bag liter by 89 percent in storm drain systems, 60 percent in creeks and rivers, and 59 percent in streets and neighborhoods.
At the beginning of 2014, California legislators have reached an agreement that could lead to a statewide ban on plastic carry out bags from supermarkets, liquor stores, and pharmacies by 2016.
The agreement calls for using $2 million for loans and grants that could help companies retrain workers and convert manufacturing " a new generation of reusable bags with the smallest environmental footprint".
State Senator Kevin de Leon, who helped propose the deal, said, "It bridges the gap and moves the economy forward into a green future".
Plastic bags are made of polyethylene, a petroleum product.  Production contributes to air pollution and energy consumption. Local city bans are saving counties money on curbing pollution.
Even though paper bags are an option when checking out at local shopping stores, bringing a reusable bag is the better choice. Paper bags use 14 million trees each year in the United States to produce a year's supply for retail use. Reusable bags help conserve natural resources.
Using reusable bags have been hard to accommodate at first but once you pick up the habit, it's convenient and easy.
Here are some helpful tips when it comes to using reusable bags safely and preventing cross-contamination when shopping:
Wash reusable grocery bags often. Cloth reusable bags should be machine washed using regular laundry detergent and dried in the dryer or air-dried. Plastic-line reusable bags should be scrubbed using hot water and soap and air-dried.
Always wrap raw meats inside a paper bag before putting them into a reusable bag.
Keep meats, fresh produce, and ready–to-eat foods separated. Use separate reusable bags.
Store reusable bags at home in a cool, dry places, NOT in the car. Inside cars and car's trunks may have high temperatures therefore can cause germs like Salmonella bacteria to grow faster. Keep reusable bags next to the front door or in garage for reminders to take them.
Use reusable grocery bags for ONLY groceries. Each reusable bag should have its own specific purpose.
Say No to Plastic Bags: Go Green Giveaway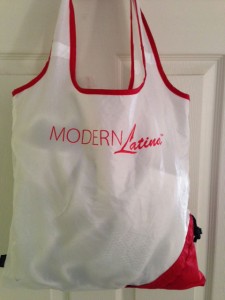 In honor of Earth day and local cities efforts on saying no to plastic bags, Modern Latina is hosting a Go Green Giveaway where you have a chance to win an eco-friendly bag. The giveaway begins April 22, 2014 and runs trough April 29, 2014 at 12:00 AM PST. How To Enter:
You can enter up to six times per person via different entry methods mentioned above. This giveaway will end April 29, 2014 at 12:00 AM PST. Once winner has confirmed prize, the winner will be announced on Facebook. All entrants must be at least 18 years old and a U.S resident. Prize fulfillment will take 4-6 weeks.