by Ariana Garcia
It's always refreshing to see younger Latino generations live out their dreams. This statement is particularly true in regards to local sensation Manuel Romero. This dapper young man is an accomplished singer and songwriter; and he's only twenty-one. Manuel's love for music has been developing from a very early age (two-years old to be exact). Spurred by his family's support and local success, Manuel is making strides to what will undoubtedly be a very successful performance career.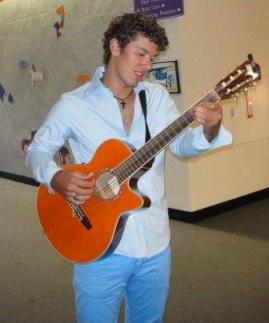 I had the pleasure of meeting Manuel and his family as he prepared to perform at San Jose's Children's Discovery Museum's yearly candelaria event. He is no stranger to this event or others of its kind. His first competition took place during a 16th of September celebration in San Jose; where he won first place and opened many doors for his career. Since then Manuel has released three albums, the self-titled Manuel Romero (2002), Santa Maria (2007), and Orgulloso de Ser (2008). He was also a contestant and made it to the top 20 in NBC's America's Got Talent. He has and undoubtedly impressive resume and what's all the more interesting is his unique performance style.
One need only watch Manuel perform to know that music is the air he breathes. His energy is contagious and truly unique. What really blew me away was his ability to blend not only different genres of music but also switch from English to Spanish in a seamless fashion. Manuel's latest project is to give the traditional quinceañera song a face-lift. "Como Hace Quince Años" a song he and his father wrote for his sister's quinceañera has gained Manuel recognition from Quinceañera magazine and Latina teens across the U.S.
I asked Manuel how he felt the rest of his music is revolutionizing the industry today. He responded:
"I think the diversity of my music. The ability to be able to combine, both cultures and styles of music that come from the Latin culture and music that comes from the culture here in America. Being able to combine that and go back and forth is important. Not a lot of artists can do it the way that I do it. I think that's the most important thing, bringing something new to the table."
AG: You're also working on a new album correct?
Manuel: Yes, right now I'm writing new material for it. It's going to be in Spanish and something new and different. I think the young crowd is going to be very into it but I think even the older crowd can enjoy it.
AG: Are you heading toward a pop feel?
Manuel: Yeah it's a little bit of pop but not all electronic, you know, like modern radio. It's crazy because I'm influenced by so many different genres. I can be singing mariachi and next thing I know I'm singing a country song. I haven't' really seen that versatility within a lot of artists and I'm hoping to bring something like that to the table. Sometimes it's not the easiest thing to do to bring something so different out but slowly but surely it becomes your style and people like what you're doing. I'm having fun with it.
It's this fun and whole-hearted devotion to his art that make Manuel a performer to keep on your radar. How can we best help this up-and-coming star? By spreading the word about his talents; especially his song "Como Hace Quince Años." You can find more information about Manuel and contact him through his website www.Manuel-Romero.com or by calling 408-942-7464. His music is also available for download through iTunes and DigStation.
Ariana Garcia lives in San Jose, CA. Her passions are languages, good books and anything sweet. She currently works in the online advertising industry. She holds a B.A. in Communication from Saint Mary's College of California.