by Linda Castillo
As part of National Small Business week, Modern Latina is highlighting Yari Rolon and her business Coco Camila, an online boutique featuring handmade, one-of-a-kind hair accessories. As a business owner and mother of six, Yari shared some insights about how she started her business and continues to make it grow. She is an inspiration and reminder to always stay focused on your dream.
What inspired you to start Coco Camila?
When my daughter was born in 2002, I was very excited since she was my first baby girl. I wanted to dress her up and match hair bows and headbands with all of her outfits but unfortunately I was not able to find great quality ones. Therefore, I decided to start making my own. I would dress up my daughter and compliment her outfit with my homemade hair bow and other mothers would ask me to make some for them.  In the beginning, my hair bows weren't as perfect but with perseverance and dedication I mastered the technique, which inspired me to share my talent by creating hair bows for little girls like mine.
What were some challenges you faced starting your business?
When I started my business 11 years ago I was a young mother of three, a preschooler, a toddler and an infant and I had to manage my time between being a mother and running a business.  Being new to the business, I often had to breastfeed my daughter while researching suppliers, marketing ideas and designs. I spent endless nights creating hair bows while everyone slept but with practice and time it got easier.
Can you provide some advice to other mothers who may be interested in starting a business?
My advise for other mothers that are interested in running a business would be to never doubt themselves and never give up on their dreams. They need to set a goal and work hard to achieve it even if sometimes we need to take one step back to move two steps forward. Hard work and dedication will pay off.  There was a time when I had to take a break from my business and even though I wasn't selling I never gave up, I continued researching and creating and during that time I learned more and came back stronger.
How do you find balance running the business and family life?
Balance? What is that? Unlike, 11 years ago when I started my business I now am a mother of 6 ages 4 to 15. I keep a chore/ calendar chart called "The command Central" and this chart allows us to communicate and keep up to date with the daily family events. Even though, it keeps us pretty organized, I often say that I have my business down packed but my kids… Well that's different story.  At the end of a busy day, I walk into my home office studio to create my designs. My business is my peace.
What are your next steps for Coco Camila?
My next step is to open a brick and mortar boutique focusing on birthdays and baby showers. I am now working on my new website and creating new designs for the up coming seasons. ♦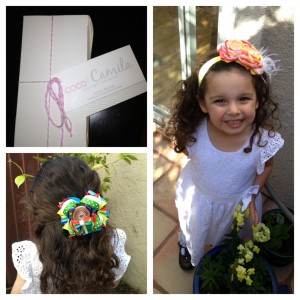 Yari sent over some samples for my little one to try. Each hair accessories was so adorable and unique. You could see the quality of materials and thought that goes into the design of each piece.  And while the bows looked so delicate, CoCo Camila's products are designed with ribbon ends that are heat sealed to prevent fraying and every hair bow is starched to help them keep their shape.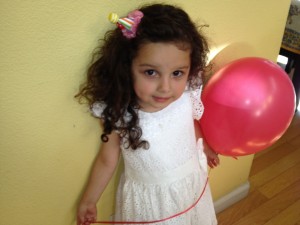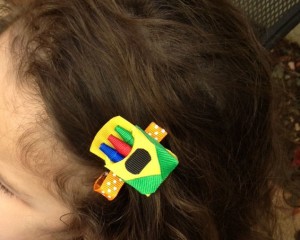 My little one especially loved the crayon clip saying "how cute!" as I placed it in her hair. I am sure she will be wearing that one on the first day of school. You can view and purchase more of Yari's unique creations at www.cococamila.com
Linda Castillo is the Founder and Executive Editor of http://www.modernlatina.com/. She writes on topics that empower and inspire Latinas including art, motherhood, green living, culture, travel, and issues transforming the Latino community. Linda has earned a B.S. in Business and a M.S. in Mass Communications from San Jose State University.