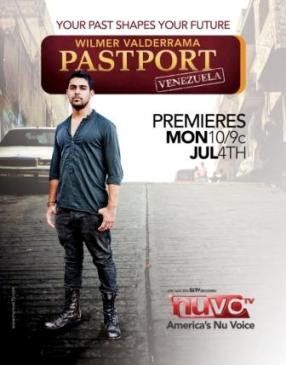 Wilmer Valderrama (That 70's Show, Yo Momma, The Dry Land) has become a household name since first appearing as the endearing FEZ on FOX's That 70's Show. Yet, few are aware that he had very humble beginnings and comes from an extremely poor neighborhood in Venezuela — a place so dangerous, residents lock themselves in their homes by 5 o'clock to avoid the violence on the streets. nuvoTV's PASTPORT: VENEZUELA joins Valderrama on his emotional return to Venezuela for the first time since he came to the U.S. 16 years ago.
The only series of its kind, PASTPORT follows the unique journeys of Latino celebrities as they travel to the countries of their families' origins, often for the first time, to re-connect with their Latino heritage, history and culture. PASTPORT: VENEZUELA premieres on Monday July 4 at 10 PM ET/PT. With nostalgic visits to his elementary school, a local radio station and a drama class at a university, PASTPORT: VENEZUELA is an emotionally charged hour that gives viewers an up close and personal look at the Hollywood star's triumphant return home.
"PASTPORT captures a journey to your past that anyone can relate to, but especially the Bi-Cultural Latino community," said Maria Perez-Brown, nuvoTV's senior vice president of programming, "The people we follow are passionate about their own American experience, but crave a stronger bond to their heritage. Our audience connects with this on a very personal level, because they are constantly balancing the best of their two cultures."
About nuvoTV
nuvoTV (mynuvoTV.com), currently Si TV, will launch on July 4, 2011 and is the first and only English-language television network created for American Bi-Cultural Latinos 18-49A. Bold. Vibrant. Driven. From lifestyle and comedy programming to music and movies, 70% of the programming slate consists of originals, all shot in high-definition. nuvoTV is available in major markets including Los Angeles, New York, Miami, Chicago and San Francisco / Bay Area. Major distribution partners include AT&T U-verse, Comcast, Cox, Dish Network, Time Warner Cable and Verizon FiOS.
SOURCE nuvoTV